Pumpkin Roll

In this last stage of the tutorial for this pumpkin roll dessert, we'll learn how to make the pumpkin log from the fine thin layer of cake. This sensational dessert is from our collection of easy recipes that look fantastic but take little effort.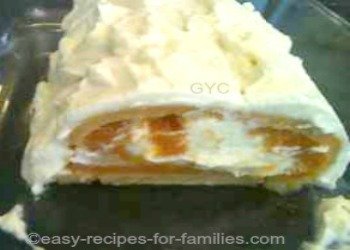 If you'd like the full recipe, just click on the button:
To go to the previous step of this tutorial where we learned how to cool the cake and spread the filling, click on the button:
To go back to the first step where we learned how to make the cake, click here:
Final Steps To This Creamy Delicious Pumpkin Roll
For this stage, you'll require:
The remainder of the whipped cream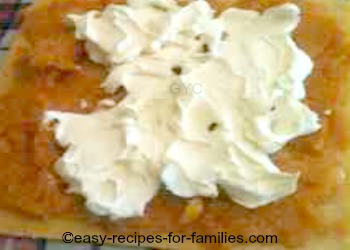 Holding onto the baking paper, roll gently and loosely starting at the short end with the score mark.
The filling will ooze out so try to slacken off the tightness of the roll.
Use the baking paper to help hold the roll in place, ending with the roll sitting on the bottom edge.
Finish rolling and tidy up any excess overflow of the filling.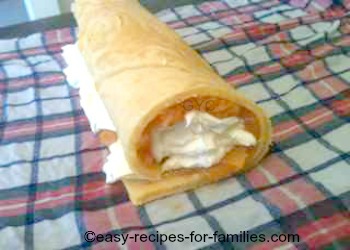 Transfer the log to a serving platter. A rectangular one is best, to suit the length of the roll.
Using the remainder of the whipped cream, spoon lashings of cream generously all over the top of the log. Use a flat spatula or a blunt knife to spread the topping.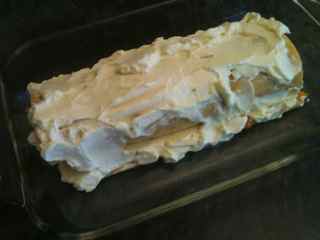 When the topping is finished and you wish to cover it before chilling in the refrigerator, use a scaffolding of toothpicks as in the image here:
Place the toothpicks around the top - edges and center of the cake so that the cling wrap will support the delicate film without it touching the cake.
Lay the plastic cling wrap over the toothpicks.
It's now covered. Chill it till it is time to be served.
It's ready to be served at any time.
Look at this - isn't this easy dessert sensational?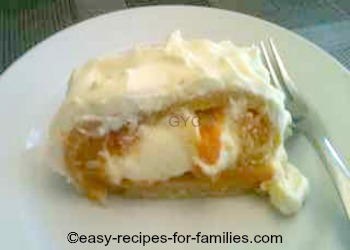 This makes a really lovely dessert and is ideal when you want a constrast in flavors.
This Dessert goes Perfectly with...
A dessert of this lovely and delicious heavy creamy pumpkin log will contrast perfectly with a tasty savory dinner such as this
easy Lasagna Recipe
, another recipe that is delicious yet so easy to prepare. Shhh...these are recipes which look and taste sensational with little effort!
---
Leave Pumpkin Roll and discover hundreds of delicious recipes with the homemade touch!