Homemade Cake Recipes
No Fail Basic Cake
| | |
| --- | --- |
| | Related |
To go directly to the no-fail basic recipe for our super easy homemade cake recipes, click here, or browse through these sensational yet easy recipes for wonderful cakes with the homemade touch. They are all a "throw in the pot and mix" type of recipe that always produces an irresistible cake.
Essential For Homemade Cake Recipes





Cake Tester


A cake tester is essentially a fine skewer. When the cake is about ready - meaning, when it's baked to the recommended time, insert the tester at a slight diagonal into the center.

When it comes out clean it means the cake is perfect. it's ready to be taken out of the oven to cool.

If there's still bits of dough clinging onto the skewer this means it is not yet baked all the way through, so leave it in the oven for  a few more minutes.

Tip: Every oven is different. Cooking times also vary at various altitudes and what is recommended in any recipe as baking times is a guide only.




Non-stick Bakeware

The key to not waste any time when cooking is to use non-stick baking "tins". These are my silicone molds and they're used just about every week.

I suggest a minimum of one round standard sized 9 inch/ 23 cm cake mold and two loaf molds. One basic cake recipe pours into 2 loaf "tins".

Gone are the days when baking tins had to be lined with parchment or baking paper and greased. Not only did this waste time but there was all that additional fat consumed.







Once you've mastered the basic butter cake, all other cakes are mostly variations based on these fundamental proportions.

Here is a "throw together" treat I made it to thank the builders who'd done a great job that morning. I had to make it quickly from whatever was in the pantry. Knowing the basic no fail cake proportions meant that this yummy treat would be a guaranteed success.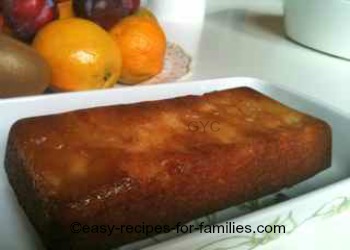 Variations to the basic cake include:

brown sugar replacing caster sugar
addition golden syrup, or honey, or maple syrup
mix fruit in the batter
layer fruit at the base
addition of chocolate pieces
addition cocoa powder


The terrific advantage for homemade cakes as opposed to store-bought cakes, is knowing exactly what you and your family are consuming. Our family is most careful not to consume trans fats, preservatives or artificial ingredients and lovely treats like these homemade cake recipes means we can enjoy baked treats without the worry of the consumption of synthetic foods.
Basic No Fail Butter Cake

This homemade recipe uses a 23cm/9inch round baking tin for about 8 servings, but I usually split the batter into two loaf tins to get two separate cakes.
This is all the ingredients:

• 1 block/ 8 oz/ 250gm butter

• 1 cup sugar

• 4 eggs, beaten

• 1 1/2 cups self raising flour





How to put it together:

• Melt the butter and sugar in a large saucepan over moderately high heat

• As soon as the butter melts, take it off the heat and continue to stir till the mixture is thick and combined. It doesn't take long, just a few minutes and you'll see the layer of melted butter blend into the sugar to form a thick blended mixture

• Add in beaten eggs and combine well

• Fold in flour. Folding in is a term that means to gently combine the flour into the batter. Use the edge of the wooden spoon to "cut" through the batter which folds in the flour. There's no need to over fold. Once the batter looks smooth and there are no lumps of flour, it's ready to be poured into the baking tin

• For quick and easy baking, use silicone baking "tins". This saves time so that you don't have to grease and line bakeware

• Bake in a moderate oven, ie 360F/180C for 30 minutes till golden brown

• Use a cake tester to test that it is cooked.  It is baked when it comes out clean.

• Take it out of the oven immediately and allow to stand for 10 minutes.

• If you are icing or frosting, allow it to cool completely BEFORE applying frosting or icing



Easy Recipes Tips

Once you've mastered a basic recipe, all your homemade cake recipes will be easy. They are mostly variations on these fundamental steps and proportions


Always use butter and not margarine, which is a synthetic food


I recommend the use of non-stick bake-ware. All the recipes in this site omit the step of greasing and lining baking tins and baking trays. This step is just one more time waster that can be eliminated by using silicone bake-ware


The same quantity of batter will make two loaf cakes. Bake one for now and another to freeze. It's also another way we manage size portions so that a treat isn't consumed in one go.
These homemade cake recipes are so simple to make that you just wouldn't waste your money on boxed mixes with questionable preservatives and additives.  I've fed my family with good, healthy meals for years, however, because of my time constraints, I've learned the art of cooking quickly and efficiently.

So, you'll find this recipe to be really easy - it's just the way I've baked homemade cakes for years.  My first rule in the kitchen - Don't Waste Time - for cakes, this translates to NO creaming or sifting or weighing ingredients.


---