An Easy Cookie Recipe
Oats & Treacle Cookies
This easy cookie recipe of oats and golden syrup is so simple to make that it takes less than 20 minutes from go to whoa. It's yet another yummy treat from our collection of easy recipes.
A Cookie Recipe That's So Easy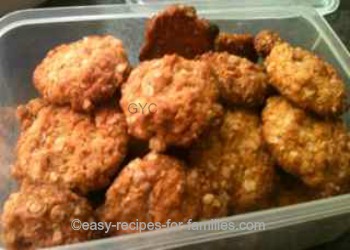 We recommend this cookie recipe as it is healthy and a good low cholesterol treat, made with oats and good quality oil rather than butter.
Looking for a simple yummy cookie - Look not further!
These are ideal for school lunch boxes or just as a healthy snack at home.
Ingredients for this easy cookie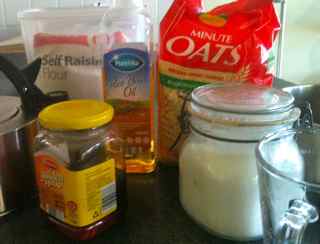 The Mixture Is Like Wet Dough After Adding Boiling Water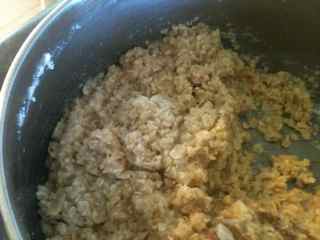 Allow Good Spacing As The Cookie Mix Will Spread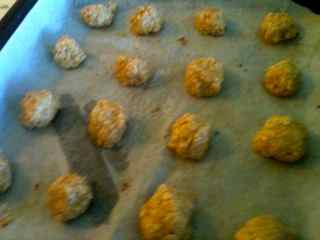 An Easy Cookie Recipe
Made From Oats And Golden Syrup
This recipe makes 30 scrumptious treats.
Just Add
Prepare
• 2 cups oats

• 1/2 cup sugar

• 2 tbs golden syrup or treacle

• 1 cup self raising flour

• 2/3 cup good quality oil

• 1/4 cup boiling water



• Preheat oven to 350F/180C

• Combine all the ingredients except the hot water in a mixing bowl

• Mix well. The mixture will look dry and will not stick together

• Pour in the boiling water and mix well. The mixture will now look like wet dough

• Take little spoonful quantities and roll them into little balls of dough. The mixture will make about 30 balls

• Place on non stick cookie sheet or lined and greased cookie trays

• Bake for 10 minutes till just golden brown


These healthy oat treats are chewy and delicious.
See how the cookie spreads when baked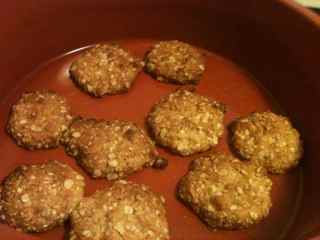 Now, how easy was that! Don't you just love recipes such as this which are super simple, take no time at all and made from ingredients that are more than likely in your pantry.
Tips
Use silicone or non-stick cookie sheets to avoid the process of lining and greasing your baking trays. Not only is it time consuming but it also means your family is consuming yet a little more fat.
Use either treacle or golden syrup.
If you prefer your cookies crunchy, bake for a little longer, but take care not to burn them.
Allow lots of room on the baking tray between the spoonfuls of dough as this mixture will spread.
---