Libbys Sweet Corn
Organic Corn Kernels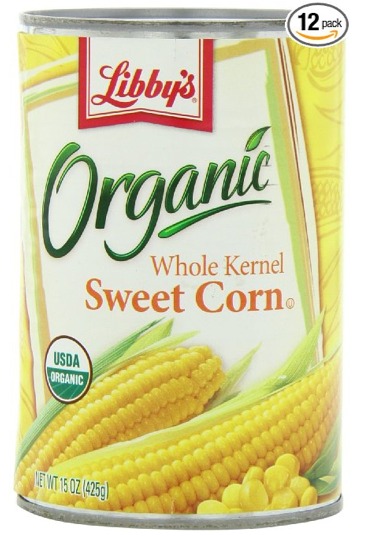 Libbys Sweet Corn - Organic Whole Kernel Sweet Corn, 15-Ounce Cans (Pack of 12)


About Libbys Sweet Corn
Delivered To Your Doorstep

Grown and packed in the USA


All organic, natural, vegan, gluten free, vegetarian


The product is fully cooked and ready to heat and eat


Delivered directly to your doorstep


Reviewers share that the corn is nice bright yellow, very sweet, plump,  "out of this world" tasty


USA "Organic" Certification does not permit the use of Genetically Modified Organisms (GMO). Read more here: http://www.ams.usda.gov/AMSv1.0/getfile?dDocName=STELDEV3004446&acct=nopgeninfo.  Any farmer who farms organic produce cannot use GMO seeds.  USDA organic regulations require farmers and handlers in the food distribution channel to evidence that they are not using GMOs and that they are protecting their products from contact with prohibited substances, such as GMOs, from farm to table


Some reviewers have had poor experiences with dented cans and undercooked contents.


---