Homemade Chocolate Cake Recipes
Light Moist Chocolate Cake
These two homemade chocolate cake recipes are a favorite in my home. The fact that the kids and their friends just devour the cakes must mean my homemade cakes are great and I love making them because they're just so easy to prepare and it takes just 15 minutes to throw together.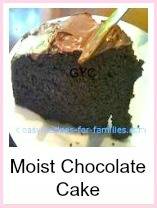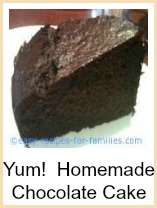 As far as easy recipes go, these are up there amongst the easiest.
On this page you will find the recipe for a scrumptious light chocolate baked yummy, which is somewhat healthier as it does not have an entire bar of decadent chocolate as the main ingredient!
Homemade Chocolate Cake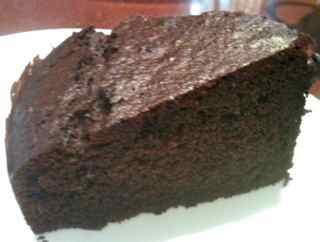 Rating:
Simple
Hands-On Time:
15 minutes
Hands-Off Time:
35 minutes
Ingredients:
6
Steps:
1 then bake.
The outcome of this recipe is sensationally moist and your family will love it for afternoon tea or in their lunch boxes for school.
This recipe for a wholesome delicious homemade cake makes 8 - 10 servings.
For a delicious and super simple frosting, top with store-bought chocolate frosting or Nutella. Either way, it is delicious.
Just Add
Prepare
• 1 block/8 oz/250 gm butter

• 2 cups dark brown sugar

• 4 eggs, beaten

• 1/2 cup milk

• 1 1/2 cups self raising flour

• 1/2 cup cocoa powder



• Preheat oven to 360F/180C

• In a saucepan on moderate to high heat, melt butter and sugar together and stir to combine

• Take it off the heat immediately as soon as the butter has melted

• Keep stirring off the heat to blend together the melted butter and sugar. It will become a thick dark caramel mixture. You'll see that the layer of fat, that is the melted butter will eventually blend into the sugar

• Add in beaten eggs and milk and combine well with a wooden spoon

• Add in flour and cocoa powder. Fold in lightly till there are no lumps

• Pour into a silicone cake tray

• Bake for 35 minutes till the cake tester or fine skewer when inserted, comes out clean

• Allow to cool for 10 minutes before serving. If applying frosting, be certain to allow the delicious chocolate cake to cool thoroughly


Serve either as is, or ice with chocolate frosting or top with lashings of Nutella, a hazelnut spread.
Tips For Homemade Cake Recipes
Don't waste time greasing and lining baking tins - To make work easier for homemade cakes, I recommend using flexible silicone bake ware. These are non-stick so it's just a matter of pouring in the cake batter. Because it is flexible, just twist the bake ware to release the cake to place on a serving plate.
Take the cake out of the oven as soon as it is cooked to retain its moistness. Don't leave it in the oven, or it'll overcook.
Be certain that the cake is completely cool before applying frosting or Nutella as a topping.
---