Rum Balls

Who can possibly resist rum balls! They're all boozy and yummy, and incredibly simple to make.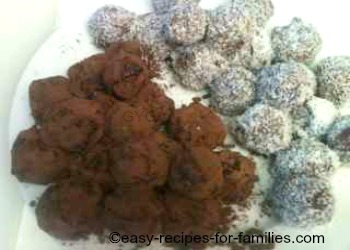 Like others in our collection of easy recipes, these treats look sensational, taste divine and are remarkably simple to make.
Rating:
Very Easy
Hands-On Time:
30 minutes
Hands-Off Time:
0 minutes
Ingredients:
6
Steps:
3
Ingredients for Christmas Truffles
Cake
Rum
Chocolate Frosting
Cocoa Powder
Chocolate Sprinkles
Coconut - dessicated
This recipe is very simple to do - just follow the step by step instructions and photos below. However, for the novice cook, we have as well, a
detailed step by step photo tutorial
.
3 Steps To Scrumptious Christmas Balls
Step 1:
Crumb the cake and make them into balls.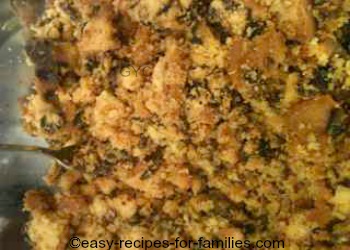 Step 2:
Apply the frosting.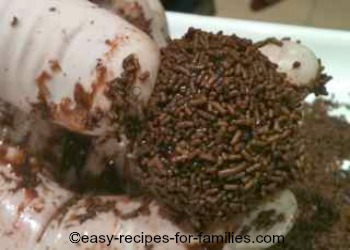 Step 3:
Coat in chocolate sprinkles or coconut.
Make variations using different colored sprinkles.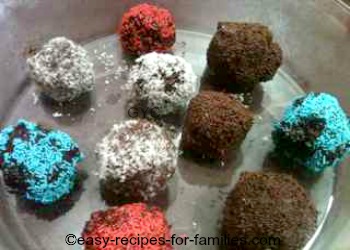 This goes perfectly with...
We used these lovely treats in an
elegant Christmas wreath
, clustering a group of them amongst fresh luscious strawberries.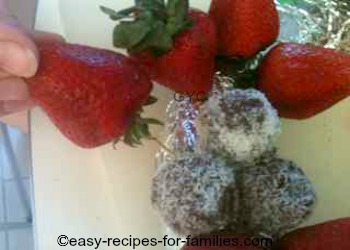 This recipe makes 40 balls.


Just Add
• 1 pound/500 gm fruit cake or chocolate cake

• 5 tablespoons rum

• Sprinkles as suits you:

Cocoa powder
chocolate sprinkles
coconut
colored sprinkles




• Using a large fork, crush the cake into crumbs

• Add the rum while crushing to moisten the mixture.

• Ideally, leave the rum soaked cake crumbs for 48 hours in the refrigerator to mature

• Scoop a generous teaspoon of soaked crumbs in your fingers to make a ball, as in the photo

• Make all the crumbs into balls

• Apply chocolate frosting to each ball, using a little teaspoon

• Roll it immediately in the coating of sprinkles of your choice

• Place them directly into a serving platter or if they are to be stored later use, place them in an airtight container and refrigerate


Tips
After applying the frosting, the balls will be difficult to handle, so roll them immediately to coat them with a dry sprinkle such as dessicated coconut, cocoa powder or sprinkles or any sort.
Use disposable gloves while making the balls.
The balls coated with cocoa powder will need to be consumed immediately. If kept, the cocoa melts into the frosting and it becomes too difficult to handle.
---
Leave Rum Balls to explore for hundreds of easy recipes including sensational Christmas recipes!