Easy Christmas Pudding Recipe
Ice Cream Pudding


For the easiest ever Christmas pudding recipe, make this incredibly simple Ice Cream Christmas Pudding. But, like all good puddings, the fruit has to be soaked some days ahead.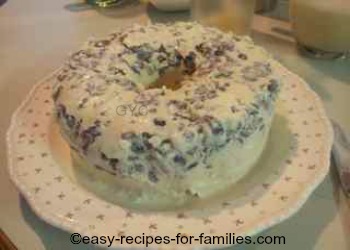 Rating:
Incredibly Easy, Looks Sensational
Hands-On Time:
10 minutes
Hands-Off Time:
4 hours
Ingredients:
5
Steps:
2 then freeze
Ingredients for an Incredibly Easy Christmas Pudding Recipe
Equipment: Non-stick Bundt mold
Raisins
Glace Cherries
Rum
Sweet Sherry
Ice Cream
Step 1:
Soak Fruit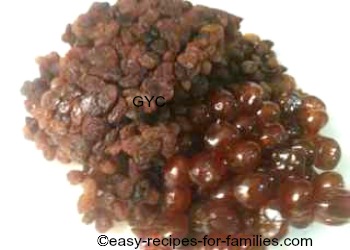 Step 2:
Make the Pudding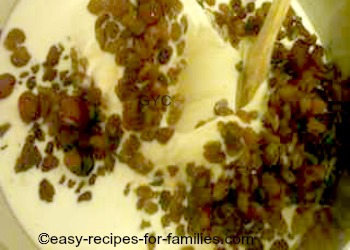 Step 3:
Learn to Remove The Mold While Keeping The Ice Cream Intact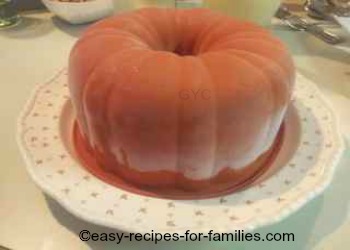 There you are...just Divine!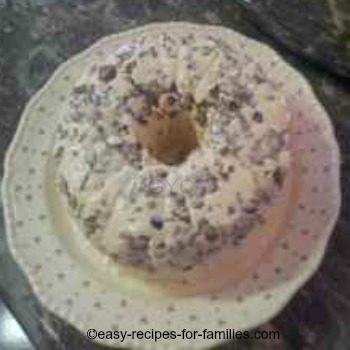 Makes 1 bundt pudding
Just Add
Prepare
• 1 pound/500 grams mixture of raisins, currants, sultanas

• 1/4 pound glace cherries

• 1 cup rum

• 1 cup sweet sherry

• 1/2 gallon/ 1.9 liters vanilla ice cream




• Soak all the dried ingredients in the liqueur a week before making the pudding

• To easily make this Christmas recipe, thaw the ice cream to soften for at least 1/2 hour

• Tip all the soaked ingredients into a large mixing bowl. It should now be full and fat and there should be no excess fluid in the soaking bowl

• Tip in all the softened ice cream. Combine thoroughly. You'll find the softer it is, the easier it will be to mix through all the fruit

• Spoon into a non-stick, silicone bunt mold

• Freeze overnight, but at least 4 hours

• To serve, upturn the pudding onto a lovely platter.


This Christmas recipe looks divine and tastes sensationally more-ish. Who can possibly resist a recipe full of boozy Christmas fruit!
Best of all, it's an easy Christmas recipe that takes little effort for a punchy impact.
Tips For An Easy Christmas Recipe
For our easy recipes, we recommend the use of non stick silicone molds. It saves time and trouble in lining and greasing the mold. If you're not using a silicone mold, line it firstly with a double layer of cling wrap. When it's upturned
Soak the dried ingredients for as long as possible. If you're running out of time, soak them for at least 24 hours. You want them to plum up full of delicious rum and sherry.
When freezing this Christmas recipe, place the pudding right at the back of the freezer where it is coldest.
For a pudding with extra flavor, substitute rum and raisin in place of vanilla.
---
Leave Christmas Pudding Recipe to browse through hundreds of delicious yet so easy recipes and loads of festive ideas and recipes!