Homemade Ice Cream Recipes

Carol shares her sensational and super simple homemade ice cream recipes.

She tells us the secret to her tropical ice cream recipes is to use strong tasting fruit such as ripe mango and not to "mush" it up too finely so that there is still some texture when served.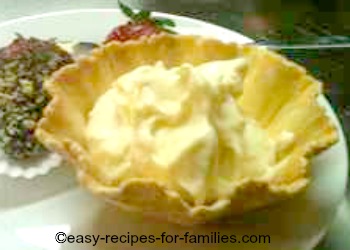 We've taste tested her homemade ice creams and declare them excellent!
This homemade recipe makes 8 cups of ice cream, sufficient for 14 - 16 servings.
Just Add
Prepare
• 2 quarts/2 liters store bought vanilla ice cream

• 16 oz/500gm strong tasting fruit of your choice



• Remove the ice cream from the freezer and leave at room temperature for half an hour or so, to allow it to melt a little. It will then be easier to work with

• Select strong tasting fruit such as tropical fruits like bananas, Indian Mangoes or Asian Durians

• Pop all the ingredients into a mixing bowl. Using a hand held blender mix the fruit into the ice cream but take care to retain some chunks to give the ice cream some texture

• Put the mixture back into the ice cream container

• Freeze for at least 3 hours


The ice cream was so delicious all the guests all went back for seconds.
Serve scoops of ice cream in a waffle cone or waffle cup. It looks sensational and eliminates washing up!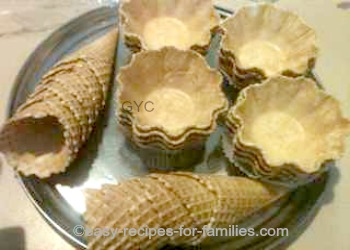 Tips
It is important to have the ice cream soft before it is combined so don't omit the first step. Leave it out to melt a little.
We've found that the strongest tasting tinned mangoes are Alfonso Mangoes from India. They're smooth and not stringy so, are ideal for homemade ice creams.
---
Leave Homemade Ice Cream Recipes to explore for hundreds of sensational easy recipes that are so tasty they'll have the kids running to your table!