Easy To Make Dessert Recipes


Fruit Clafoutis

This is one of my easy to make dessert recipes, and it is made from ingredients you are more than likely to have in your pantry - plain flour, sugar, eggs, milk and some fruit.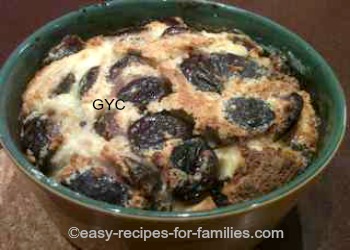 Best of all, it's a one pot dish. I make it in the casserole dish then pop it straight into the oven and serve from the casserole dish.

When you're pressed for time, the best recipes are those no fuss recipes made from ingredients already handy in the larder and a one-pot dish. Naturally, it is healthy.

Absolutely yummy!
This dessert recipe serves 6 persons.

Serve this easy dessert with ice cream or whipped cream.
Just Add 

• 4 eggs, beaten

• 2 cups sugar

• 1/2 cup milk

• 1/2 cup plain flour

• 1 tin/14 oz/400 gm fruit, drained and chopped into chunks


Here is how you put it together:

• Preheat the oven to 320F/160C

• In a deep casserole dish, beat the eggs

• Add in sugar and milk and combine

• Add flour and mix till there are no lumps

• Add in drained fruit. Or chunks of fresh apples, pears, berries, plums, apricots or whatever is in season

• Mix so that it is evenly spread in the batter

• Bake for 1 hour 15 minutes, till the top is golden brown


This has to be one of the simplest dessert recipes to make.

Now, how easy was that! I just love to make a scrumptious dessert like this where you throw all the ingredients in a pot and walk away while it bakes.
Tips From Easy Recipes

Fruit selection: Make Clafoutis with berries, plums, apricots, pears, apples. Just about any fruit that will hold its shape while being baked in the oven for an hour will be fine. 


With softer fruit, use kitchen scissors - you'll find these faster to work with than cutting with a knife.


The batter is so simple to make - it's really a firm custard, and ever so delicious.


To save time, make the dessert in a deep casserole dish that can go from oven to the table.  Remember to always use the best tableware.


Preheating the oven is necessary so that the oven cavity is at an even temperature for baking.

---
Easy Recipes | Easy Dessert Recipes | Easy To Make Dessert Recipes