Super Easy Delicious
Pumpkin Cobbler

Here's a delicious pumpkin cobbler that is incredibly easy to prepare. It really is a one pot, one step recipe.

This is a sensational dessert - it looks divine and tastes superb!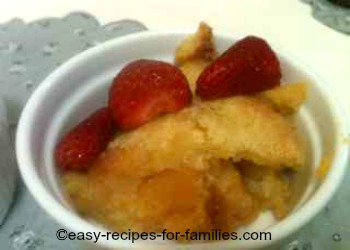 Rating:
Incredibly Simple
Hands-On Time:
5 minutes
Hands-Off Time:
45 minutes
Ingredients:
6
Steps:
1 then bake
Ingredients for Pumpkin Cobbler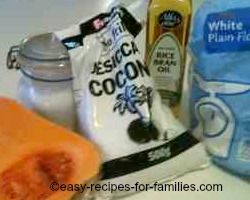 Equipment: An Oven Proof Bowl
Pumpkin
Dessicated Coconut
Sugar
Self Raising Flour
Milk
Vegetable oil
1 Step Then Bake
Before you start the process, firstly, turn the oven on to preheat at 320F/160C, so that the air temperature is even in the oven space.
Place all the dry ingredients into an oven proof bowl. I use a Pyrex bowl. Here you can see 1 cup each of flour, sugar and coconut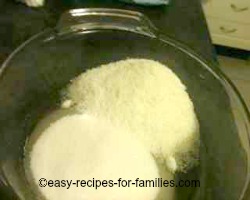 Add the cooked pumpkin, milk and the oil.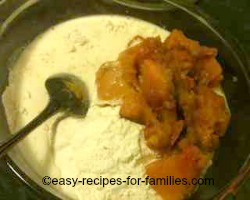 Combine the ingredients till it becomes a smooth mixture. It takes seconds to do this.
It will look like a thick slurry.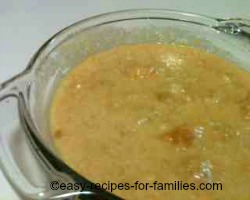 Place the batter into the preheated oven for 45 minutes till the top is beautifully crisp and golden brown.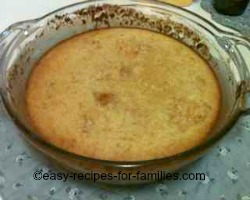 To serve, cut into wedges and eat it while hot.
Or, leave it to chill and it is even more delicious the next day. The pumpkin will have absorbed the surrounding flavors of the coconut and the sugar is even denser in the pumpkin flesh. It's sensational!
This Dessert Goes Perfectly With...
We love cobbler desserts anytime at all and this is just perfect with an
easy fast dinner recipe - Chicken Tapenade.
Makes 6 - 8 servings
Just Add
Prepare
• 1 cup self raising flour

• 1 cup sugar

• 1 cup dessicated coconut

• 2 cups cooked pieces of pumpkin, cooked in sugared water (1 pound/500 grams fresh pumpkin)

• 1/2 cup vegetable oil

• 1 cup milk




• Preheat oven to 320F/160C

• Put all the ingredients into the oven proof bowl

• Stir till it is combined well

• Bake for 45 minutes till beautifully golden brown

• Serve immediately with cream or ice cream

• Or refrigerate to serve cold



This delicious cobbler is incredibly simple to make - it really takes just minutes to mix the ingredients together and you walk away while it's baking beautifully.
By the time dinner's over, this dessert will be ready to serve freshly baked from the oven.
Tips
To cook fresh pumpkin, firstly remove the thick outer skin, remove seeds, rinse and cut into small cubes.
Boil in water with 2 tablespoons of sugar. Add sufficient water to come up to about 3/4 level of the fruit in the saucepan. Take care that the water does not boil dry as pumpkin just sucks up the liquid.
The fruit should be tender but not pureed.
Drain well before use.
This versatile fruit absorbs the flavors around it, so for pumpkin recipes, I cook it in sugared water the evening before and let it steep in the syrup overnight. The result is a lovely sweet fruit for your cobbler.
For baked recipes, I prefer to use rice bran oil as it is a high temperature oil.
---