Easy Fast Dinner Recipes
Chicken Tapenade Pasta Sauce

This Chicken Tapenade Pasta Sauce is one of my easy fast dinner recipes.
Talk about a FAST dinner!

It takes just 3 steps and less than 15 minutes to get dinner on the table with this tasty healthy pasta dish.
Easy Fast Dinner Recipes
3 Step Fast Healthy Chicken Dinner

Tapenade is a green olive paste with ground pine nuts. It is usually used as a dip or spread and comes in a little jar. 

This dish is cooked with store bought tapenade and white wine.
Here's the bio for this fast dinner.

Rating: Very Easy 
Hands-On Time: 15 minutes
Hands-Off Time: 0 mins
Ingredients: 4
Steps:  3


Here are the ingredients for this fast healthy dinner:

Chicken fillets, onion, tapenade and white wine.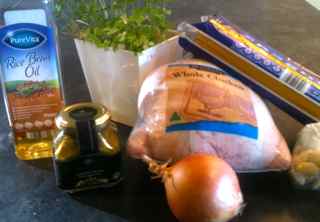 ...and here are the easy 3 steps to create this fast to make, tasty healthy dinner.
Step 1 - Brown the meat and onions
Step 2 - Add the tapenade and white wine.
Cook for a few minutes to combine the sauces and that's it...you'll agree...that's fast.

Step 3 - The sauce is ready to be combined with freshly cooked long pasta.

Chicken Tapenade Pasta Sauce


This recipe serves 4 - 6 persons and is perfect with long pasta such as spaghetti or fettucini.

Mix the sauce through the long pasta and serve with a sides of a crunchy green salad.

You'll need:

•    1 1/2 lb/750 gm chicken fillet meat, cut chunkily
•    1 onion, diced finely
•    1 jar /6 1/2 oz/ 190gm of Green Olive Tapenade
•    3/4 cup white wine
Here's how you put this recipe together:

•    In a hot non stick pan, fry onions and brown the chicken meat
•    Add Tapenade and white wine. Cook for a few minutes for the flavors to be absorbed and the sauce to thicken<br>
<br>
•    Spoon the cooked sauce onto drained pasta


This is 3 step dish that takes under 15 minutes to cook.

Chicken meat must not be over cooked so is ideal for fast cooking.

Now, how fast was that!  Putting this together took minutes and the washing up is minimal.


Tip
For healthy cooking, avoid using oil and use instead non-stick cook ware. Every little bit of oil or fat we consume is not just unhealthy, but goes straight to the waist.

---
Leave Easy Fast Dinner Recipes for Chicken Tapenade Pasta Sauce to browse through hundreds of tasty, easy healthy recipes!