Dinner Recipes




Easy Mediterranean Chicken

Pasta Sauce


Dinner Recipes
Easy Mediterranean Chicken Pasta Sauce has the subtle tang of olives, tomatoes, red wine vinegar and Passata and is ideal as a quick easy and healthy dinner recipe.
Rating: Easy One Pot Dinner
Hands On Time: 30 minutes
Steps:  3

Dinner Recipes
Easy 3 Step Mediterranean Chicken Pasta Sauce

Ingredients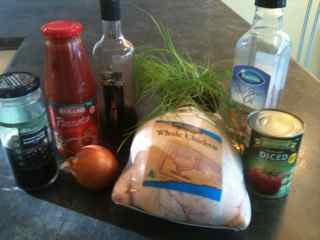 Step 1 : Brown meat and onions

Step 2 : Add the other ingredients (except the olives)
Bring to the boil for just a few minutes
Then a slow simmer for 15 minutes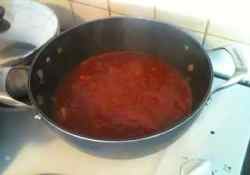 Step 3 : Lastly, stir through olives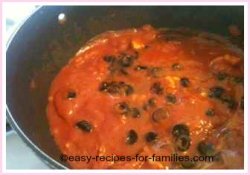 That's it - plate this tasty healthy pasta sauce with spaghetti or tagliatelle.
Easy Mediterranean Pasta Sauce
Easy Steps:
Step 1 - Browning
Step 2 - Add ingredients
Step 2 - Simmer
This easy and healthy dinner recipe takes under half an hour to present on the table. It will be ready as soon as the pasta is cooked.
Just Add
Prepare
• 1 1/2 lb/750 gm chicken fillet meat, cut chunkily

• 1 onion, diced finely

• 2 tbs red wine vinegar

• 2 tbs sugar

• 1 ts stock powder

• 1 can diced tomatoes

• 1 cup passata

• 3/4 cup water

• 1 tbs flour

• salt and pepper to taste

• 1/2 cup sliced black olives



• In a hot non stick pan, fry onions and brown the chicken meat

• Add the red wine vinegar to the hot pan. It should sizzle.

• Add the remainder of the ingredients, except the olives

• Combine well, stirring till the flour is blended in. Bring to the boil.

• Reduce heat to simmer. Cook for about 15 minutes till the sauce is thick.

• Stir through the olives after the heat has been turned off.


Enjoy this easy chicken recipe with red wine vinegar, tomatoes and olives with a plain fluffy white rice.
It is best to have sides that are not too flavorsome and do not compete with this hero dish, so go with simple sides like pasta and a crisp green salad or quickly sauteed greens.
Tips
Use a non-stick fry pan or roomy non-stick pot for easy one pan cooking and to minimize the use of oil.
Chicken fillets cut chunky is best for this recipe. Don't over cook the meat or it will become dry and stringy.
...and be sure for a healthy low fat dinner to trim away any evidence of fat before cooking.
---
Leave Dinner Recipes Easy Mediterranean Chicken to discover hundreds of delicious easy and healthy recipes!