You will just love Kathy's Panacotta made with coconut cream and Frangelico, a hazelnut liqueur. It's sensationally scrumptious and too easy for words! 

Kathy's Special Panacotta

This recipe makes 5 serves

You'll need:
1 3/4 cup/400 ml coconut milk
2/3 cup/160 ml thickened cream
1/3 cup caster sugar
2 ts instant coffee powder
3 ts Franjelico
2 1/4 ts gelatin powder
1/2 cup boiling water

Here's what you do.

Firstly oil the little molds using a brush to spread the oil all around the grooves. This will help it pop out easily on serving
In a saucepan, mix the boiling water and gelatin and stir till the powder is dissolved
Tip in all the other ingredients and combine well
Pour the mixture into the molds
Refrigerate for 4 hours to set
Serve with strawberries and blueberries glazed with rose syrup.

Tips
Franjelico is a delicious hazelnut liqueur and used in desserts. It's absolutely scrumptious and this really adds to this cold yummy treat.
Molds are best oiled firstly so that they pop out with ease. We use these moulds. See how there's a lid at the bottom and top.  Naturally, affix the little one and pour in the mixture, then close the big lid. That seals it and refrigerate till set.
To serve, undo the big cover and upturn onto the serving plate.  Now, remove the little lid. This allows air in and the air pressure pushes the dessert and it slides out beautifully. 
I definitely recommend lovely moulds like these.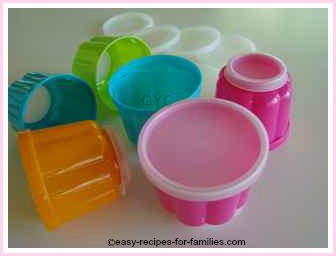 This is Kathy's signature dish - she makes it in no time at all before rushing out the door and it looks sensational served for dessert, surrounded by a smattering of strawberries and blueberries.  What she does is marinade the fruit in rose syrup with a dash of liqueur.  
My children give this 5 Stars for Superbness!
This dessert goes with...
We enjoyed this cool treat after a dinner of delicious pork chops served with quinoa and sweet potato.  This was a lovely contrast in flavor, colors and texture and was perfect with this simple and delicious meal.