How To Cook Pork Chops
The Secret's In The Seasoning

Let's learn how to cook pork chops so that they're tasty and let's do this without any fuss. You can create this delicious meal in under 30 minutes with pan fried pork chops and a delicious layered quinoa salad with roast pumpkin, beetroot and parsley. Just sensational!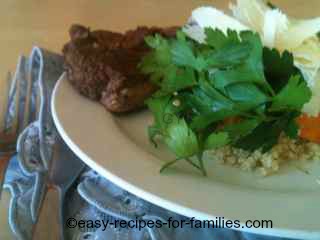 Rating:
Easy
Hands-On Time:
20 minutes
Hands-Off Time:
30
Ingredients:
5
Steps:
2
Ingredients
Equipment: A medium sized skillet
Pork chops
Garlic
Chives
Vegetable Oil
Salt and Pepper
Paprika
2 Steps To Tasty Homestyle Pork Chops
Step 1:
Trim then Marinade the pork chops.
While the chops are marinading, cook the quinoa seeds and make the layered salad.
Step 2:
Place the marinaded chops on a hot skillet. As soon as you see the heated oil start to smoke, place in the marinaded meat.
Once browned, turn the chops over to the other side and brown.
When both sides are sealed and browned, turn the heat down to a low-medium heat and allow to cook till the juices run clear.
Serve with an attractive aalad.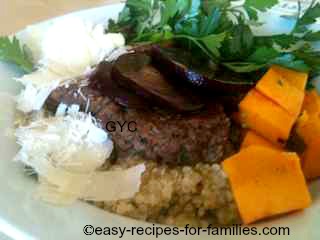 There we are, a meal that's done in 30 minutes - tasty, healthy, gluten free and little to no fat!
This goes perfectly with...
We enjoyed this delicious yet so easy recipe with
this layered quinoa grain salad.
Absolutely terrific! Just look at the colors, textures and the lovely contrasts in flavors in this super quick and delicious meal.
This recipe makes 2 main sized servings.


Just Add
• 8 oz/250 gm/ 2 medium sized pork chops

• 1 tbs dried chives

• 1 tbs paprika

• 1/2 tbs dried garlic or 1 clove diced fresh garlic

• salt and pepper

• 1 tbs oil




• Trim away the rind and visible fat from the pork chops. You want to cook the chops with as little fat as possible. Discard the fat

• If there are pieces of bone, trim these away too and either discard or use later to make a wonderful stock

• Place the trimmed pork chops in a bowl and add all the other ingredients including herbs and seasoning, coating both sides with the seasoning. Place in the refrigerator for at least half an hour to marinade

• Heat a small non-stick skillet with just a little oil, till the oil starts to smoke. Place the two pork chops in the hot pan to sear each side.

• Turn over to sear the other side

• Once browned turn the heat down to low medium and cook in the pan till the meat is well cooked.

• Serve with an appetizing salad.


Cooking pork chops is ever so easy to do!
The secret, though in making it tasty is to marinade the meat for 1/2 an hour or so, prior to pan frying.
Easy Recipes - Tips
Pork is invariably fatty. Use a pair of heavy duty kitchen scissors to trim off all the fat. Always.
For all pork recipes, please remember, this meat must always be well cooked. You'll know it's cooked on the inside when a sharp knife is inserted into the meat and the juices that run out, are clear. If it is still uncooked, the juices are bloody.
---
Leave How To Cook Pork Chops to explore hundreds of delicious yet so easy recipes!