Slow Cooker
Chicken Soup Recipe
For The Perfect Stock

This slow cooker chicken soup recipe is so very easy and makes the most delicious chicken soup. There are no added fats nor dairy products in this recipe.

Ever!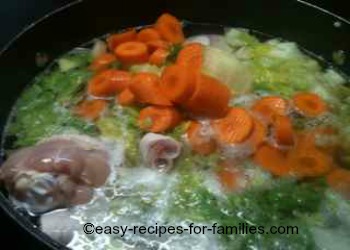 Enjoy this soup recipe as a one pot wholesome meal

Rating: Very Easy
Hands-On Time: 10 minutes
Hands-Off Time: 4 hours
Ingredients: 7
Steps: 2
Slow Cooker Chicken Soup


To make this soup recipe, to make 6 serves, you'll need:


• 10 to 12 drumsticks, all fat removed

• salt and pepper, 3 tsp sugar

• 2 onions, diced

• 8 cups water

• 4 carrots, diced

• 2 potatoes, quartered

• 2 sticks celery diced

• 1/2 inch fresh ginger diced finely

• 1/2 cup shallots or spring onions, diced as a garnish on serving


• Place all the ingredients other than the spring onions into the crock pot

• Cook on high for 4 hours

• When cooked, do a taste test and adjust the seasoning to suit

• The meat will be so tender, it will fall of the bones

• Separate the meat from the bones and discard. Serve as a wholesome complete meal. Top with diced shallots or spring onions.

• OR, if you like your soup smooth and blended, remove the cooked chicken meat and discard the bones.  Using a hand held electric blender, blend the vegetables into the soup. Spoon into soup bowl, add the meat and sprinkle over with spring onions.




Tips

Should you need to add more water to the crock pot, while it's hot, be sure to only ever add boiling water, otherwise the ceramic bowl may crack.


To skin chicken drumsticks, cut a slit in the skin with a pair of kitchen scissors. Using fingers, tear away the skin and fat. Cut away the connective tissue with scissors. Discard as chicken fat is high in cholesterol.




---

Leave Chicken Soup Recipe To Discover Hundreds Of Simple Recipes For Great Meals