Easy Ground Beef Recipe
Ground Beef Muffins

Doesn't this easy ground beef recipe look adorable? They are scrumptious, inexpensive to make and so tasty.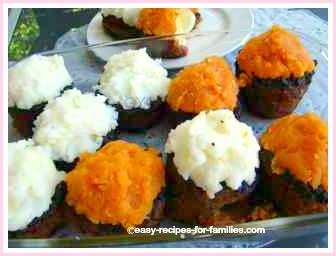 Rating:  Easy

Hands-On Time: 45 minutes

Hands-Off Time: 40 minutes

Ingredients: 12

Steps: 4

This is a delicious meat loaf recipe made in muffin molds and topped generously with mashed sweet potatoes and mashed potatoes. Doesn't that look sensational!
If you're new to cooking and wish to follow a step by step photo tutorial, just click on the button to view each step of making these adorable ground beef sensations!

Ground Beef Muffins With Potato Tops
You'll need:
1 pound/500 gm extra lean ground beef
1 onion
1 tb oil if not using a non-stick pan

1 can/ 400 gm tin diced tomatoes
1 cup/ 100 grams dried peas
3 tb soy sauce

1 tbs sugar
1 stock cube
1 cup water
1 1/2 heaped tb plain flour
2 eggs
Optional - whole hard boiled eggs for each cupcake mold

For the topping - 3 cups mash potato made from mash potato powder and 1 medium yam, cooked and mashed

Here's how to toss it together:

Preheat oven to 440F/220 C
In a large saucepan, brown together meat and onions.

When browned, add all the other ingredients leaving the eggs and flour for the time being
cook till the meat is cooked. Taste test for deliciousness that suits you!
Stir in flour and eggs
Spoon into muffin molds
Optional - add a boiled egg into each mold and cover with the meat sauce
Bake for 40 minutes till the ground beef muffin is cooked and firm
Allow to cool and decant onto a serving plate
Top the ground beef muffins with mashed potato and/or mashed sweet potato. Pile it generously so it looks like icing atop a muffin.


Serve drizzled over with a little gravy with steamed vegetables.
While this is an easy ground beef recipe, this does take a little more time to carefully apply the topping of mash.

You could top with finely diced chives, but I prefer the look of the mash as though it was icing.
I prefer to use non-stick pans, which require no extra oil or grease, but if you're your pans are conventional, please be sure to add a tablespoon of oil when cooking the meat and to grease the muffin pans.

---
Leave Easy Ground Beef Recipe to browse through hundreds of delicious easy recipes!