Quinoa Grain Makes A Sensational Salad

Don't know how to use quinoa grain? It's not just a super food, it's easy to cook and makes sensational salads and sides. Let's learn to make this beautiful salad.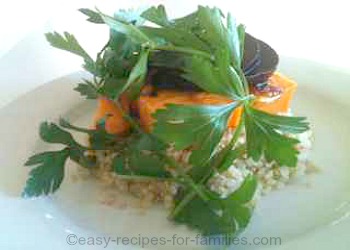 Rating:
Easy
Hands-On Time:
30 minutes
Hands-Off Time:
0
Ingredients:
6
Steps:
2
This recipe gives the main photo instructions on how to make this delicious and divine looking dish, but should you wish to see each step in detail, just follow the "Learn How" links.
Ingredients
Equipment: A medium sized saucepan
Quinoa Grain
Stock Powder
Roasted Pumpkin
Sliced Beetroot
Flat Leaf Parsley
Block of Parmesan Cheese
2 Steps To A Divine Quinoa Salad
Step 1:
Cook the grain.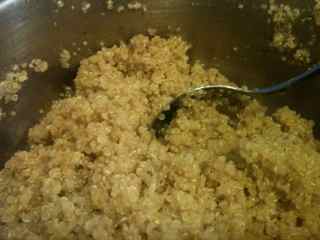 Step 2:
Created the layered sides on each dinner plate.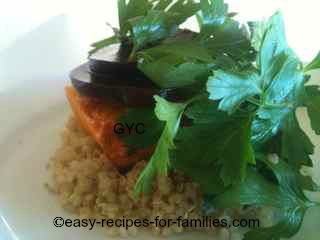 Serve as a sides with the hero dish or if this is the mains, make two.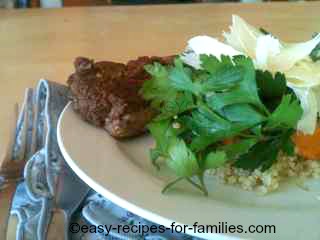 This goes perfectly with...
We enjoyed this wonderful quinoa dish as a sides with
pan fried seasoned pork chops.
Absolutely terrific!
This recipe makes 2 main sized servings or 4 sides.


Just Add
Part 1: Cook Quinoa
• 1 cup quinoa

• 2 cups water

• 2 ts vegetable stock powder




• Firstly, place the grain in a medium sized sauce pan and rinse them in lots of running water. You'll notice lots of bubbles at the start and by the third rinse, the rinse water runs clear. Friends tell me this is the washing away of enzymes that would otherwise cause bloating

• Add 2 cups of water

• Stir in the stock powder

• Bring to a rapid boil then turn the heat down immediately to the lowest setting

• Allow to simmer till all the water is absorbed

• After turning the heat off, leave the lid covered for a further 5 to 10 minutes.

• Fluff with a fork and the delicious quinoa is ready to serve.


Just Add
Part 2: Arrange the salad
• 1 cup roasted pumpkin pieces

• 8 slices of tinned beetroot

• 16 stems of flat leaf parsley

• 1 cup of freshly shaved Parmesan cheese




To make one serve:

• Arrange 1/4 of cooked quinoa on the dinner plate and shape into a patty

• Layer with 1/4 of pumpkin

• Layer with 2 slices of beetroot

• Garnish attractively with the parsley leaves

• Top with freshly shaved Parmesan

• Repeat to make 4 layered salads, directly on the dinner plates



It is just gorgeous!
I've found quinoa grain to be easier to cook than rice as rice does tend to stick to the pan. There's no question this grain is much healthier for us being a low GI food and it is so versatile to cook with.
Easy Recipes - Tip
I love recipes like this which are cobbled together from bits of delicious left overs. All that was cooked fresh for this wonderful combination of flavors was the quinoa.
---
Leave Making This Salad With Quinoa Grain to be inspired by hundreds of delicious easy recipes!