Delicious Gluten Free Quinoa
With Roasted Pumpkin

Here we are, on the last page of making this sensational, gluten free quinoa dish combined with roasted pumpkin, beetroot, parsley and freshly shaved Parmesan cheese. It's another of our super easy recipes that looks divine and tastes dee-lish-ous!


To obtain the proportions in this recipe, just click on the button "Start Of Recipe".
In the previous step of this tutorial we learned how to cook the quinoa just perfectly and you can find the detailed photo tutorial by clicking this button:
Let's Make The Gluten Free Quinoa Salad
For this stage, you'll require:
The perfectly cooked quinoa
Diced roasted pumpkin
Slices of tinned beetroot
Flat leaved parsley
A block of Parmesan Cheese
Make this easy layered recipe on each dinner plate. If this is a mains, two per serve is required, else one if it is a sides to go with a hero dish.
Quinoa layer
Pop half a cup of cooked quinoa onto the plate and shape it into a level topped round or patty.
Here's the cooked quinoa. Note it is quite dry and you can see each seed with the exposed seed germ. Cooking with too much water will make it gluggy so be sure to use the proportions in our recipe.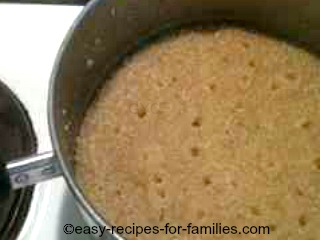 Pumpkin layer
Cut the roasted delightful bright orange vegetable into slices or thick chunks and layer them on top of the quinoa. Please visit the linked page if you'd like to learn
how to roast butternut squash.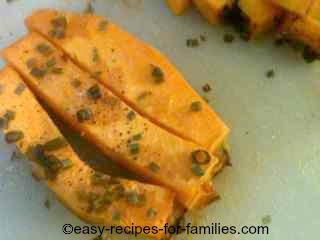 Beetroot
The easy way is to take two slices of canned beetroot and layer on top. Take care with the juices as it stains badly. (The time consuming method is to peel, cook and slice the root vegetable)
Layer the Parsley
Trim the parsley from their central stalk, rinse and shake dry in a colander.
Trim off the excess stems and lay attractively atop the beetroot slices.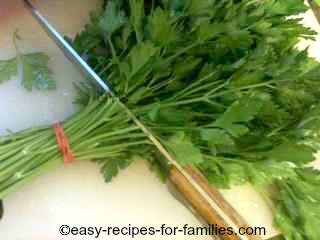 Shave the Parmesan cheese
Shave about a cupful of curls of Parmesan cheese and sprinkle some atop each layered sensation.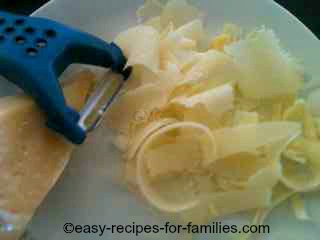 Here's the layered salad. Doesn't it look ever so enticing and the combination of flavors is simply delicious! Best of all, it's so healthy, full of fiber and gluten free.
...and wasn't that just so easy to prepare.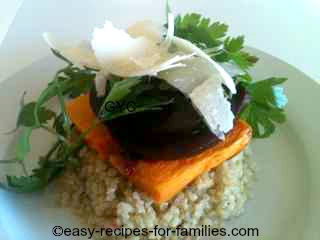 It's ready to be served as a vegetarian meal, but make two for a main meal sized serve.
We enjoyed this lovely tasty salad with pan fried seasoned pork chops. The entire meal was gluten free and absolutely delicious.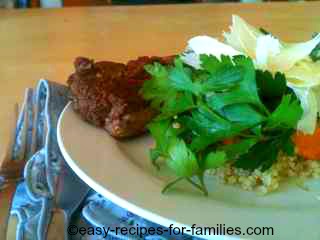 This wonderful quinoa is a re-discovered food, although it really is an ancient staple of the Aztecs and Incas grown for centuries in the Andes.
As you'll read on our quinoa information page "What is Quinoa?" this is not a grain - it's a seed and is gluten free as it is not sourced from a cereal based plant.
Check out our delicious gluten free recipes made with this super food.
---
Leave Gluten Free Quinoa to be inspired by hundreds of delicious easy recipes!