How To Roast Butternut Squash
On this page, we'll learn how to roast butternut squash the no-fuss way and we'll show you what to do so that it is moist, tasty and naturally sweet. Use this same process for all your roast vegetable recipes.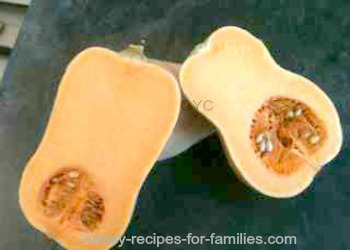 Rating:
Very Easy
Hands-On Time:
10 minutes
Hands-Off Time:
30
Ingredients:
3
Steps:
2
Ingredients
Equipment: A lined and greased roasting pan
Half a butternut squash
Garlic or chives
Vegetable Oil
Salt and Pepper
2 Steps To Tasty Sweet Roasted Butternut Squash
Step 1:
Before you start preparing to roast, turn on the oven to preheat at 390F/200C.
Trim the ends of the squash and remove the seeds.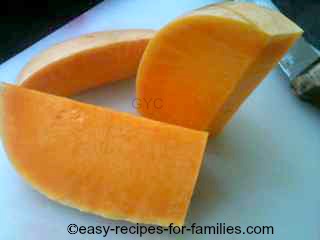 Notice our simple way is to cut off the ends, then slice thick chunks.
Step 2:
The no-fuss way is to now coat the pieces in oil and lay them in the greased and lined roasting pan. The objective of the oil is to to help prevent the butternut from dehydrating and you'll be left with a crinkly roasted squash.
Notice how there's lots of room between the pieces of squash for roasting. That's important for any roast, so that the hot air in the oven can easily move around each of the pieces and they'll roast evenly.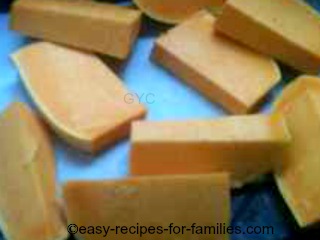 Sprinkle the diced garlic or chives and salt and pepper over the pieces of butternut.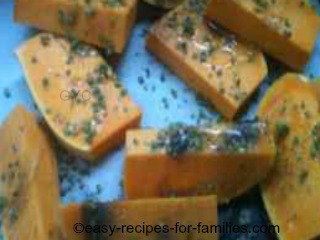 Roast in the oven for 25 - 30 minutes.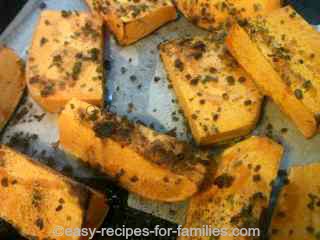 Remove the roasted pieces from the pan and trim off the outer skin. It's so easy to do this as both the skin and flesh are now cooked and very soft. There's very little waste with this method.
Isn't this just too incredibly simple to prepare?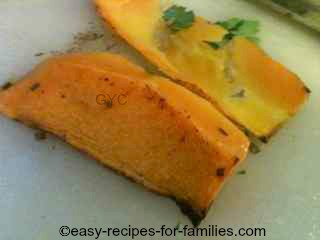 Now slice it as called for by the recipe - into slices, or chunks or cubes or serve in big pieces as is, if you wish.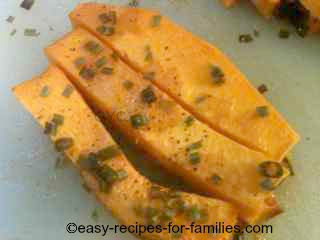 This goes perfectly with...
We enjoyed this delicious yet so easy recipe with
this lovely quinoa salad with roasted butternut squash.
It is simply delicious, healthy and perfect for vegan dishes.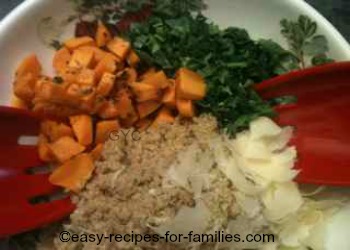 ---
Leave How To Roast Butternut Squash to be inspired by hundreds of delicious yet sensationally easy recipes!