Quinoa Seeds With Roasted Pumpkin


Let's learn how to make this sensationally delicious salad of quinoa seeds with roasted pumpkin and loads of chopped fresh parsley.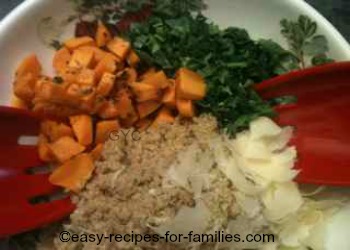 Rating:
Easy
Hands-On Time:
20 minutes,
Hands-Off Time:
30
Ingredients:
5
Steps:
3
Ingredients
Here's a sensationally delicious recipe from our collection of easy recipes. It's simple just following the steps in the photos below, however to view the detail of each step, the 3 subsequent pages of photo tutorials will show you how to attend to each stage. Just click on the "Learn How" Buttons.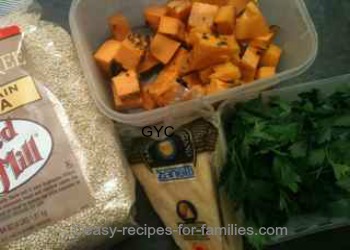 Equipment: A large salad bowl
Butternut Squash/Pumpkin
Quinoa
Stock
Flat leaved parsley
Lemon Juice
Just 3 Steps
Step 1:
Roast the pumpkin pieces.
Step 2:
Cook the quinoa seeds.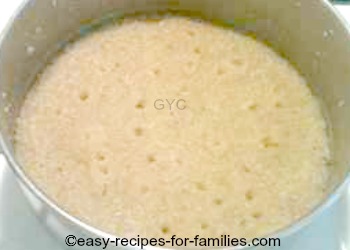 Step 3:
Toss it all together.
Chop up the parsley and shave the Parmesan over the seeds.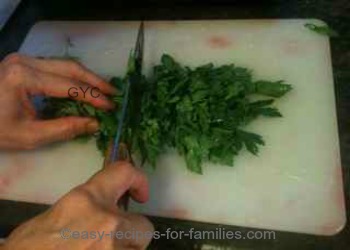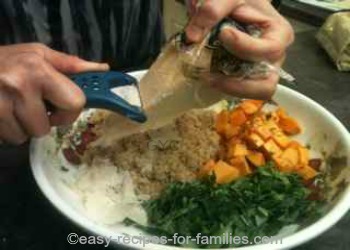 And that's it!
Serve immediately.
The amazing thing about this new food...
Quinoa was a main staple for the ancient Incas and it was grown throughout the Andes, more than 3000 years ago. The nutritional values of this ancient harvest has now been rediscovered. It's so rich in protein, calcium, phosphorus and iron, that the United Nations has declared 2013, the Year of Quinoa!
Click on the link to learn
What is Quinoa
?
Find more recipes for
cooking with Quinoa
.
This easy recipe makes 1 medium sized salad.

Equipment:



A large salad bowl
Roasted pumpkin pieces
Quinoa cooked in stock
A block of Parmesan Cheese
Flat leafed parsley
Lemon juice, salt and pepper




Just Add
Part 1: Roast Pumpkin Pieces
• 1/2 medium butternut squash

• A knob of butter about 2 oz/60 gm

• 2 tbs dried chives and/or 1 ts roasted garlic

• salt and pepper to taste




• Preheat the oven to 390F/200C

• Trim the squash and remove the seeds

• Cut into large chunks

• Roll in melted butter to coat the pieces thoroughly

• Lay the pumpkin on a roasting pan and sprinkle over with seasoning, salt and pepper

• Roast at 390F/200C for 30 minutes

• Remove from the oven, cool then cut into 1/2 inch chunks



Just Add
Part 2: Cook the quinoa
• 1 cup quinoa grains

• 2 cups water

• 2 heaped ts stock powder




• Cook the quinoa with water and stock. Bring to the boil

• Immediately turn the heat down to a low simmer till all the water is absorbed as in the tutorial

• Keep the lid covered for a further 5 - 10 minutes after the heat's been turned off, then fluff with a fork


Just Add
Part 3: Toss Together
• 1 cup freshly shaved Parmesan slices

• 1 cup chopped flat leaved parsley

• The roasted pumpkin pieces cut into cubes

• The cooked quinoa seeds

• 1 tbs lemon juice




• Place the quinoa and roasted pumpkin pieces into the serving bowl

• Add in all the chopped parsley

• Sprinkle over lemon juice

• Toss well

• Shave the block of Parmesan cheese directly over the salad so that all the shavings and crumbs are incorporated with the seeds

• Combine lightly and serve



Tips To Make Recipes Easy
The recommended proportions on the packet are usually 3 cups of water to 1 cup of seeds. I find this is makes the cooked quinoa too gluggy. For a salad, a drier result is preferable so 2 to 2 1/2 cups of water or stock are better proportions
Substitute Regianno Cheese for Parmesan if desired.
For easy cooking, where recipes call for water with stock powder, it's easy to substitute with store-bought pre-made stock. It's delicious although a more expensive option.
---
Leave Quinoa Seeds to discover hundreds of delicious easy recipes for all sorts of meal plans and treats!