Roast Pumpkin Salad Recipe
We're here to make this "more-ish" Roast Pumpkin Salad Recipe With Quinoa, Parsley and Shredded Parmesan Cheese. It is sensationally delicious!

To go to the full recipe, click on the button.



But, on this page, we'll learn how to prepare the pumpkin so that it is sweet and caramelized on roasting.
Ingredients To Roast Pumpkin
Equipment: A roomy roasting pan
1/2 butternut squash
Knob of butter, about 2 oz/60 gm
2 tbs chives, 1 tbs roasted diced garlic
salt and pepper
Before you do anything else, preheat the oven to 390F/200C.
The first step is to trim the pumpkin - remove the outer skin and seeds as in the image. The easiest way to do this is to lay the half on a chopping board just like in the photo and slice into 1 inch wide chunks. This makes each slice manageable to trim off the tough outer skin.
Rinse and cut into chunks.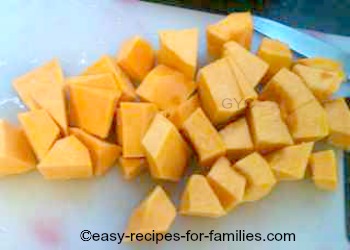 Melt the knob of butter in a little skillet and place all the chunks of pumpkin. Add seasoning and toss together so that all the chunks are well coated as it's the oil that stops the pumpkin drying out. You may substitute with oil, but there's nothing like the taste of butter.
Place them on a lined roasting pan with lots of room between the pieces for the hot oven to cook the pumpkin evenly, just like in this photo.
Roasted pumpkin is always tastier than boiled as the sugars are concentrated and the caramelization makes it especially tasty.
Here it is, beautifully roasted!
When cool enough to handle, cut it up into small chunks and toss it into the salad bowl. There you are, the roast pumpkin ready for the next step of this sensational salad.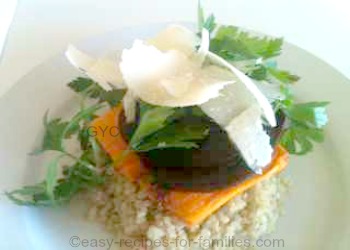 Here's what I made with quinoa...
Check out this very attractive and delicious Quinoa Salad made with pomegranate seeds, chick peas, bell peppers, parsley and baby beets. Just sensational and embarrassingly easy!
---
Leave Roast Pumpkin Salad Recipe and be inspired by hundreds of delicious easy recipes!