No Fail Brownie Recipes

Looking for scrumptious yet easy brownie recipes? These are just too easy for words.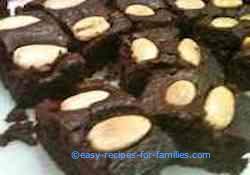 This is another one of my successful super simple brownie, that I make to serve as dessert for dinner parties. I cut several squares of brownies topped with almonds and served with vanilla ice cream or thick whipped cream.
No Fail Dessert Brownie

To make 20 squares, you'll need:

• 1 block/8oz/250gm chocolate

• 150gm/5 oz butter

• 1 cup dark brown sugar

• 2 eggs, beaten

• 1/3 cup plain flour

• 1/3 cup self raising flour

• 1/3 cup cocoa powder

• 1/2 cup blanched almonds




Now we put it all together:

Preheat oven to 360F/180F


Melt in a large pot, butter, chocolate and sugar taking care not to overcook the chocolate as it will then denature and separate into granular bits. Keep stirring and turn off the heat as soon as it is melted. Keep stirring till it is a thick congealed mixture


Add in the remainder of the ingredients except the almonds. Combine


Pour into a non-stick square baking pan or two loaf tins and press the almonds into the batter


Bake for 25 minutes, remove and allow to cool


Slice and serve the brownie for dessert with thickened cream or ice cream



Tips From Easy Recipes
for Brownie Recipes

To make this easy to lift from the baking pan, line generously with greased parchment or baking paper. When baked, just lift the paper out by the edges, lay it on the cooling rack or chopping board. Remove the paper then slice when required


Brownies tend to stick so remove them from the mold or parchment as soon as it sufficiently cool to handle. If you're using silicone molds, gently pull away at the sides so that the brownie comes away from the mold. Do this while it's still hot so be sure to wear oven mitts. Using a flexible spatula gently probe away at the base to prevent the bottom sticking to the bakeware.  If you're using parchment, do the same thing, pulling the paper away from the sides of the baked brownie.


When serving as dessert, cut into different shapes like triangles or  round shapes using an upturned mug as a template


Enjoy a brownie on its own or for dessert, serve a thick brownie slice topped with generous dollops of cream or ice cream.

---