Homemade Brownie Recipe
without Nuts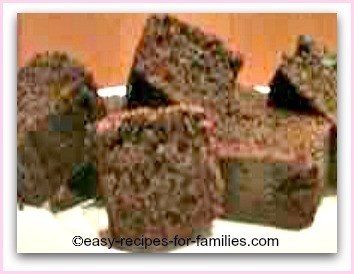 We make this delicious moist homemade brownie recipe for when the kids friends come over for play dates. This recipe has no nuts and is ideal when you're worried about nut allergies which unfortunately seems all to common these days.

Homemade Brownies


This recipe makes about 20 slices of a moist brownie.

You'll need:

• 250 gm/ 1 block butter

• 2 cups dark brown sugar

• 300 gm/ 1 large block chocolate - check the packaging to ensure there are no nut traces


• 6 eggs beaten

• 2/3 cup plain flour

• 2/3 cup cocoa powder

Preheat the oven to 360F/180C


In a large roomy saucepan, melt together butter, chocolate and brown sugar.  Take it off the heat as soon as it's melted, but keep stirring till the mixture is a thick smooth consistency


Add in the remainder of the ingredients


Pour into two non-stick loaf pans or a rectangular baking pan


Bake for 35 to 40 minutes 


Slice into squares only after it is completely cooled.

Tips For A Homemade Brownie Without Nuts

Always preheat the oven so that the oven cavity is at an even temperature when baking


I only ever use non-stick bakeware so as to avoid the process of lining and greasing pans.  So, if you're using traditional pans, be sure to line with baking paper or parchment and grease it too.


Remove from the pan as soon as the homemade brownie is cool enough to handle. This homemade brownie recipe tends to stick


Only ever slice when the brownie slab is completely cool, otherwise it tends to crumble.


This homemade recipe makes a brownie like a heavy rich chocolate cake. For a sticky brownie take it out of the oven 5 minutes earlier when the center is not quite cooked. The result then, is like gooey cake.


To be extra careful with avoiding nuts, check the packaging of all the ingredients to ensure there are no traces of nuts

---
Easy Recipes | Easy Baking Recipes | More Brownie Recipes | Homemade Brownie Recipe Without Nuts