Old Fashioned Homemade Fudge Recipes
Looking for old fashioned homemade fudge recipes? The old-fashioned fudge recipes are more like a heavy brownie and were called fudge in the UK before WWII.

This one is from my mother-in-law's collection of recipes. These old fashioned fudge squares, I think are a variation of our modern day very moist brownie. 
Ma's Homemade Fudge


This recipe makes 20 squares of her fudge.

You'll need:

• 8oz/250 gm/ 1 block butter

• 1 1/2 cups dark brown sugar

• 3 cups plain flour

• 2 tsp baking powder

• 1/2 tsp salt

• 1 3/4 blocks/ 14 oz/ 400 gm chocolate, broken into small pieces

• 12 oz/360 gm walnuts, chopped




• Preheat the oven to 360F/180C

• Melt chocolate in a sauce pan on low heat

• Cream butter and sugar. Ma would have used a wooden spoon to beat the butter and sugar in a large ceramic bowl. Our modern day equivalent would be to use a cake mixer.

• Fold in flour, baking powder and salt

• Pour in melted chocolate and half the nuts

• Pour into a lined and greased square baking pan. Press in remaining nuts

• Bake for 35 minutes

• Cool before cutting into squares




This is an old fashioned homemade fudge recipe from my mother-in-law's recipes. I find it's like a very moist, chocolate brownie.
Tips From Easy Recipes

Use non-stick baking trays so as to eliminate the step of greasing and lining the baking tins.
To make creaming butter easier, cut butter into little squares. It will mix with other ingredients much easier.
If you are interested in my short cut methods, just check out how I make brownies without the creaming process nor using a cake mixer.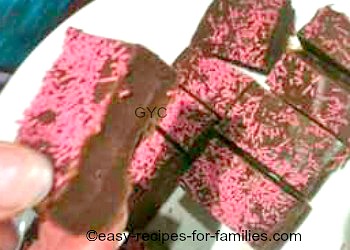 Here is my own recipe for homemade fudge. It's so incredibly easy that my daughter makes it and it's also a no-bake recipe.
---
Easy Recipes | Easy Baking Recipes | Easy Brownies | Homemade Fudge Recipes