Check out this lemon tart - it's amazingly delicious and ever so simple. Just like Mom makes. It's a throw it all in the pot type recipe and the result is ... sensational!

Lemon Tart

This makes 2 lemon tarts. This is good for freezing so I make one tart for later.

You'll need:

8 oz/ 250 gm butter
2 cups plain flour
2 cups sugar
1 cup shredded coconut
1 cup lemon juice
6 eggs, beaten
Here's how to put it together:

Be sure to have your two non-stick or silicone flan pans at the ready
Melt the butter in a roomy sauce pan. Take it off the heat as soon as it's melted so that it does not burn. No, it must not be brown at all.

Mix everything together, adding the beaten eggs last of all.
Pour the batter into the non-stick bakeware.

Bake 360F/180C for 45 minutes.
Glazing

If you want to be fancy, it's nice to glaze the top of the tart after it's baked.
1 tbs apricot jam
1 ts water
Place in a little bowl and microwave for 30 seconds on high.
Brush the thinned jam generously over the top of the baked tart.

Enjoy!

Be sure to use a fluted heavy gauge nonstick tart pan.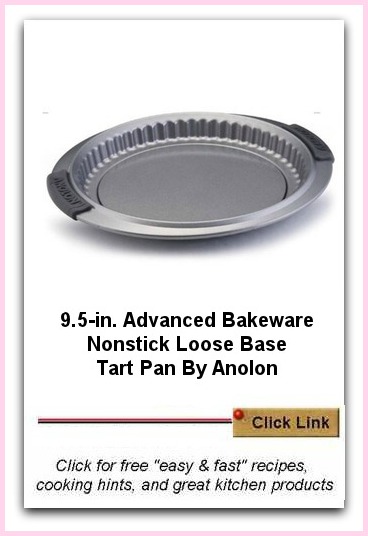 Tips From Easy Recipes

Lemon Juice
The quick way is to purchase lemon juice in bottles from the supermarket. But if you'd like to use fresh lemons for this tart, you'll need about 5 medium sized fruit to make 1 cup of lemon juice.

Glazing:

This process thins the jam so that it can be brushed as a glaze.
Brush the thinned jam over the baked tart using a pastry brush. Use quick strokes. There's no need to be precious.
Melting the Butter:

I love cooking when there's no fuss and bother with creaming of butter and sugar, best of all, there's no need for a food processor to make cakes and desserts and minimal washing up!
But, you do have to take care to melt the butter. Melted fat is incredibly dangerous and  burns your skin, so take great care to use the burner towards the back of the stove and there are NO pot handles sticking out that can be accidentally knocked.  Turn the pot handle backwards to face the wall.
Melt the butter but never burn it. You're not cooking the butter, just melting it. So as soon as the last nub of solid butter is about to melt, turn off the heat and stir till it's all liquid.

If you have an electric cook top, there'll be residual heat from the element, so take the pot off that element. There must be no additional heat after the butter has melted.
Non-stick bake ware
Save time using non-stick or silicone bakeware. I don't ever use my old baking tins. But if you do, be sure to line and grease your pans as the first step of this, in fact, any recipe.
Fruit in Season
This tart recipe is ideal when your lemon tree is in season and there's a surfeit of fruit.