Delicious And Easy
Mango Mousse

Mango mousse is always popular and this recipe is so amazingly simple you can't go wrong!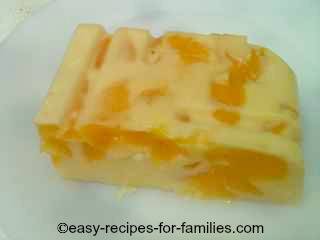 Rating: Incredibly Simple

Ingredients:  5
Steps: 3 steps, all made In the serving dish
This is a recipe that goes straight from the fridge to the table and it looks elegant and tastes divine.
All ingredients are readily available from the supermarket.
Best made when the mango fruit is in season. Look below at our tips on how to select the best mango fruit for this recipe, as the ripeness does matter.
Mango Mousse

If you're searching for incredibly simple desserts, you can't go past this mousse dessert.
This recipe makes 8 servings.

Here are the Steps:
Step 1 - Place fruit in dish
Step 2 - Make jelly
Step 2 - Pour and mix
You'll require:

•    2 Ripe mango fruit
•    1 Pkt Orange jelly crystals
•    1 Pkt Pineapple jelly crystals
•    3 cups/750ml Boiling water
•    1/4 cup /100 ml thickened cream
•    Large rectangular serving dish


 Here's the simple process of putting the mousse together:  

•    Cut up each mango into chunky cubes, put into serving dish
•    Mix the jelly crystals with the 3 cups of boiling water, stir till fully dissolved.
•    Pour jelly mixture over the fruit
•    Pour cream into the jelly and mango mixture and swirl around
•    Leave in the fridge to set for at least 6 hours.


This mango dessert makes up quite firm and can be served with cream or ice-cream.



Tips For a Successful Mango Dessert

Remember, for this mousse, do not to make up the jelly in accordance with the instructions on the box or it'll be too soft and wobbly.  So that there's some texture and because you'll be adding more fluid with the cream, add only 3/4's of the recommended amount of water.
For the best result for a mousse, select the mango fruit that is just slightly over ripe so that it is soft 
To make a firm mousse use less liquid than the recommended packet proportions or add some gelatin.
There are variations to mousse recipes, but this is the easiest and is similarly delicious.

---
Leave this delicious Mango Mousse to discover loads more delicious and so yet so simple recipes for treats and meal plans!
Find more Sensational Dessert Recipes