This absolutely yummy easy banana pudding recipe takes less than 10 minutes to fling together and 20 minutes in the oven. This is yet another of our delicious but ever so easy recipes.


This easy pudding recipe serves 6 - 8 persons.
Serve the banana pudding as is or with ice cream or whipped cream.
Just Add
Prepare
• 1 cup brown sugar

• 1/4 cup golden syrup

• 3 eggs, beaten

• 3 medium or 2 large bananas , mashed

• 1/2 cup cooking oil

• 1 1/2 cups self raising flour

• 1 1/2 cups boiling water



• Preheat oven to 350F/180C

• Combine sugar and golden syrup and oil. Heating it over moderate heat makes it combine quicker, but as soon as the sugar dissolves be sure to take it off the heat immediately

• Add in beaten eggs, mashed bananas and flour. Mix it in well

• Pour the batter into a casserole dish or ramekins

• Pour the boiling water evenly over the batter.

• Bake for 20 - 25 minutes till golden brown. Ramekins will take 15 - 20 minutes.


Now, wasn't this just the simplest banana pudding recipe? And doesn't it taste sensational?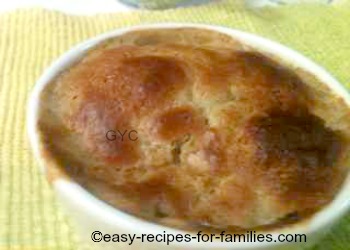 You can't make a recipe too simple for me and I love to share a tasty, great looking recipe without all the fuss and bother.
Tips
You may grease the inside of the casserole dish or ramekins, but I omit this step so as to reduce our intake of fat.
If you'd like a self saucing pudding, add another cup of boiling water to the casserole dish before baking.
If you're cooking this for a dinner party, instead of baking in a casserole dish, use individual ramekin bowls. These are oven proof individual sized bowls.