Easy Tiramisu Recipe

We love Tiramisu! So, it was a treat to come across an easy Tiramisu recipe.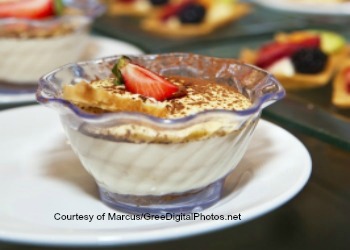 Tiramisu is a layered dessert so it's not a one-pot type dish and there is some fiddling around to create each of the layers.
But the steps are not fussy and it is worth the effort since it is so delicious.
This recipe makes 4 serves.
So that your guests can see the lovely layers of this dessert, make the Tiramisu in a simple clear glass bowl or in red wine goblets.
Just Add
Prepare Yolks and Milk
• 1 cup sugar

• 6 egg yolks

• 2/3 cup milk



• In a saucepan, beat sugar into the egg yolks

• Add in milk and bring temperature up till it boils. Simmer for one minute.

• Remove from heat immediately and cool in the refrigerator while you prepare the next layer


Prepare Cream
• 1 1/2 cups heavy/thickened cream

• 1/4 cup sugar



• Beat sugar into the cream and keep whipping till it has soft peaks.

• Use an electric beater


Prepare Sponge Fingers; Arrange
• 1 lb/500gm Marscapone cheese

• 2 pkts sponge fingers or Lady Finger cookies

• 1/4 cup strong freshly brewed coffee

• 4 tbsp rum

• 2 tbspn cocoa powder for dusting



• Finish preparing the marscapone layer, by combining marscapone cheese with the refrigerated egg yolk and milk mixture. Mix it in well till smooth

• Mix the rum into the cooled coffee

• Arrange half the sponge/lady fingers by splitting them into two and arranging them on the bottom layer of your serving bowl

• Sprinkle half the rum and coffee mixture over the ladies/sponge fingers so that it is thoroughly soaked

• Layer with half the Marscapone cheese, then layer with half the cream

• Repeat again with sponge/ladies fingers, marscapone then cream

• Top with sprinkled cocoa powder

• Refrigerate for 5 hours till set


This is an elegant, easy, no-bake dessert which looks attractive and is ideal for dinner parties.
Tips
Use a strongly flavored liqueur like rum, sherry or frangelico.
---
Leave Easy Tiramisu Recipe to explore hundreds of scrumptious easy recipes for treats, desserts, baked yummies and meals.