Easy Christmas Dessert Recipe
Strawberry Christmas Wreath
Just look at this incredibly easy Christmas dessert recipe! It's a winner from our collection of sensational easy recipes!

...You can't go past natural delicious fresh strawberries and chocolate truffles, in a sensational display.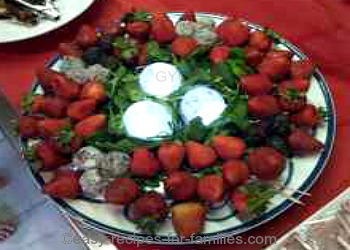 Rating:
Easy
Hands-On Time:
30 minutes
Hands-Off Time:
0 minutes
Ingredients:
7
Steps:
3
Ingredients for an easy dessert - Christmas Wreath Recipe
Equipment: Craft wreath
Aluminum foil
Strawberries
Rum Balls/ Chocolate Truffles, purchased or homemade
Toothpicks
Christmas Baubles
Rocket salad leaves
This page has the recipe for this very easy Christmas dessert. If you are a cooking novice and would like to view the photos of the individual steps, please click on the button.
Just 3 Steps For This Easy Christmas Dessert Recipe
Step 1:
Prepare the ring.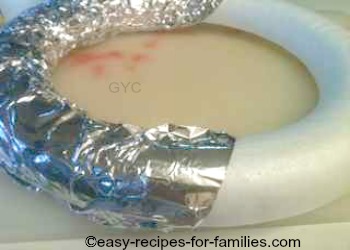 Step 2:
Fill with fruit and truffles or rum balls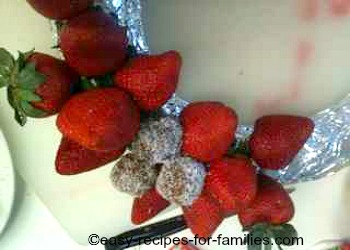 Make Christmas Rum Balls.
Step 3:
Display with baubles and leaves.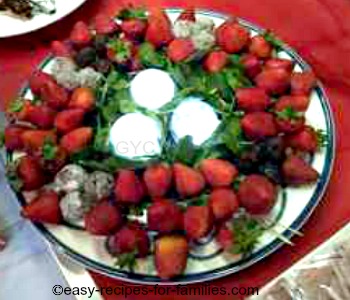 ... And that's it!
This dessert goes perfectly with...
As we had 26 guests for Christmas, I made 4 desserts. The
Chocolate Log
looked just beautiful and was polished off in no time!
Just Add
Prepare The Wreath
• 14 inch/34 cm Styrofoam wreath

• Aluminum foil




• Wrap the craft ring generously in aluminum foil so that it is thoroughly sealed. You don't want food touching the Styrofoam

• Depending on the width of the foil, you'll use between 6 - 7 sheets of foil

• Place the covered ring on a large tray or chopping board as the working surface


Just Add
Insert Fruit & Truffles
• Lots of toothpicks

• 4 pounds/2 kg largest strawberries

• 12 - 16 truffles




• Rinse and thoroughly dry the strawberries. You may have to leave them for an hour to be sure they are completely dry

• Do not trim nor hull them. Leave them intact

• Insert a toothpick into the well wrapped ring so that half of it is embedded. Pop a strawberry on the toothpick, base downwards

• Repeat creating a close cluster of 10 - 12 of the fruit. Notice in the image, 3 or 4 of the berries will be turned upwards to that the green leaves are on top, creating a lovely contrast

• Now do the same with the truffles, creating a cluster of 3

• Repeat this easy procedure, creating another cluster of berries, continuing in the same pattern till this Christmas dessert is covered with strawberries and truffles

• If it is not to be served immediately, cover with generous layers of cling wrap and refrigerate



Just Add
Display

• A large round platter

• 3 Christmas baubles

• 2 cups of rocket salad leaves



• When it is to be displayed on serving, transfer the fruit ring onto the serving platter and place Christmas lights in the center. Scatter rocket salad leaves around filling the center space

• Have small cake tongs available for your guests to help themselves to the truffles and strawberries. They'll just lift them off the toothpicks



I used large strawberries purchased on Christmas Eve and made up the fruit ring that day. So they were still very fresh on Christmas Day.
I used about 40 large strawberries for this incredibly easy Christmas recipe.
This dessert looked so sensational, all our guests took photos of it. Naturally it tasted superb, being fresh, best quality fruit.
Tips For Easy Christmas Recipes
Purchase the Styrofoam ring from a craft store, but be sure to ask for non-toxic material.
Don't hull the berries. They are much firmer and stay on the toothpicks when whole.
While our recipes may be simple to prepare, a good presentation makes all the difference. Create a contrast in colors by inserting some greenery through the red display. In the photos you'll see we've done this by upturning the berry to show the strawberry leaves. As an alternative, pin bunches of mint.
---
Leave Easy Christmas Dessert Recipe to discover hundreds of easy recipes with step by step photo instruction.