Christmas Fun Recipe
Strawberry Wreath Photo Tutorial
Just look at this incredibly easy Christmas fun recipe! This sensational recipe, from our collection of easy recipes is terrific fun for the kids!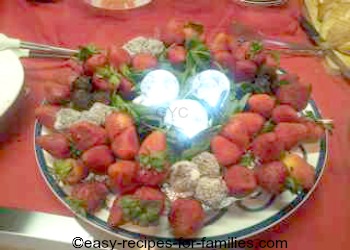 Click on the button to go to the original recipe.
This recipe is very simple to do, but on this page, I've set out for novices, each step with photo instructions.
Ingredients for this fun Christmas activity - Christmas Wreath Recipe
Equipment: Craft wreath
Aluminum foil
Strawberries
Chocolate Truffles, purchased or homemade
Toothpicks
Christmas Baubles
Rocket salad leaves
Preparation
Before doing anything else, rinse the strawberries in cool water.
Allow to drain in a colander till completely dry. In the meantime attend to the other steps of this fun recipe.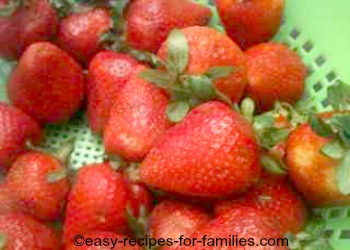 Step 1:
Prepare the ring.
Wrap sheets of foil around the craft ring till it is entirely encased in foil.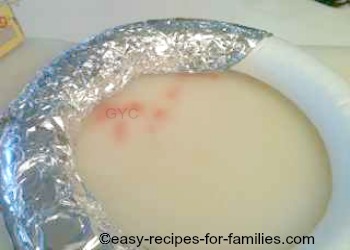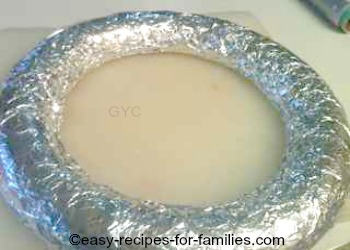 The wrapped wreath is ready for fruit to be attached. Place it on a large tray or chopping board as a working surface.
Step 2:
Fill with fruit and truffles.
Using toothpicks, secure strawberries and truffles to the wreath.
Notice that half the toothpick is inserted firmly in the Styrofoam leaving the top half to hold the yummies.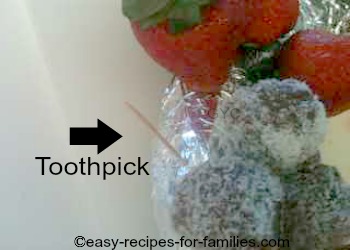 Insert each strawberry on a toothpick. Notice that the fruit is
NOT
hulled. Retain the stalk and leaves as the fruit holds more firmly when whole.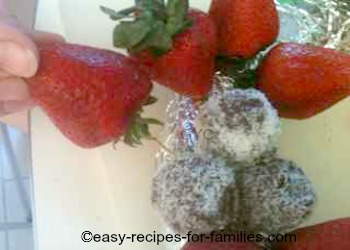 Here's what a cluster should look like. Notice how they are secured close together and are attached at the top as well as the inner and outer sides.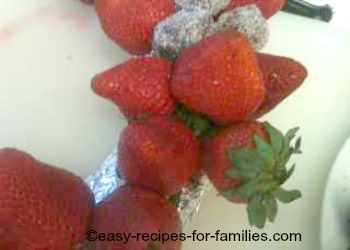 Insert about 1/3 of the strawberries so that their tops face upwards allowing the sharp dark green foliage to act as a contrast against the red.
Have your tray of truffles ready. After inserting about 10 berries, then insert a cluster of 3 - 6 truffles.
As you can see in the photo, I've made truffles rolled in coconut and some in cocoa powder.
The secret is to cluster them close together and not spread out, so that they make a visual impact.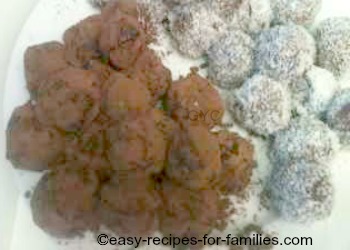 Here it is, all done on the large tray, ready to either display immediately or to refrigerate for use a little later and certainly no more than 24 hours.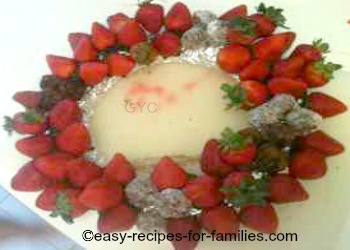 To protect it, cover with layers of cling wrap supported on a network of toothpicks. Be sure to cover it before it goes into the refrigerator. You don't want spills accidentally ruining your masterpiece.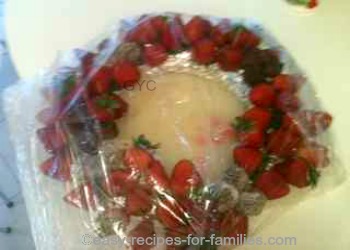 Step 3:
Prepare to display.
Transfer the Christmas fruit ring onto a large round serving platter.
Scatter the center generously with dark greens like rocket salad leaves.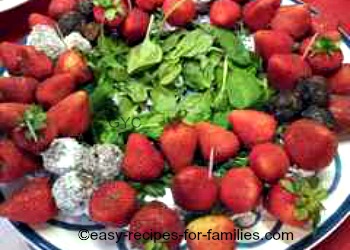 Place 3 Christmas lights or Christmas baubles, just for fun.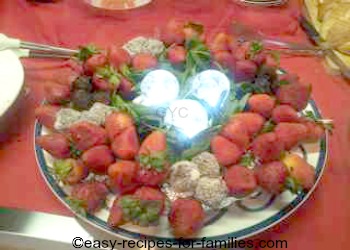 \
That's it!
Use small cake tongs to lift the individual truffles and strawberries from the toothpick.
Please click on the button to go to the full recipe.
This Christmas fun recipe is ideal for the children to participate in contributing towards the Holiday feast. It's easy to do and terrific fun.
Remember, the key to making cooking fun for kids is to create an immediate impact and it must not be for too long.
This Christmas recipe fits the criteria as the colorful dessert has such an impact from the very start of this fun activity.
---
Leave Christmas Fun Recipe to browse through hundreds of easy recipes with step by step photos.