Homemade Chili Recipes Pumpkin Chilli
Here's one of my homemade chili recipes, ideal for Meatless Mondays. It's a wholesome and hearty Pumpkin Chili that my family just love.


Easy Pumpkin Chili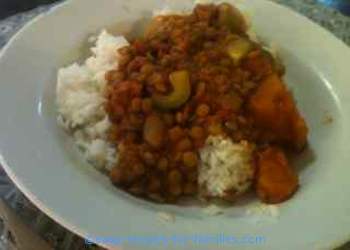 Rating:
Extremely Easy
Hands-On Time:
10 minutes, or however long it takes you to prepare the pumpkin
Hands-Off Time:
3 hours in the slow cooker
Ingredients:
quite a few
Steps:
1
The key though, is to retain texture in the meal, by not cutting up the vegetable small. In fact, my pumpkin pieces are quite large so that it survives the 3 hours in the crock pot.
The other key is to use more spices than usual as the lentils just soak up the cumin, paprika and chilli. We use piri-piri flakes rather than chilli in our home as one of my kids is simply not partial to any sort of spicy food. Piri-piri has a gentler "tang".
Ingredients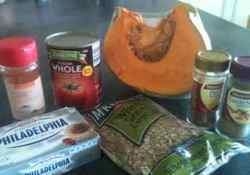 Throw all the ingredients into the slow cooker
Stir with love and happiness

Stir through peppers just before serving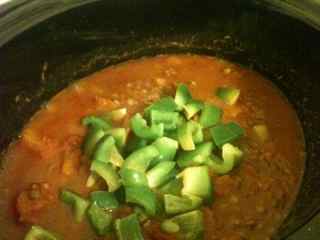 Serves 4
This dish is suitable for freezing.
Just Add
Prepare
• 1 1/2 pound/ 700 gm pumpkin, peeled and cut into large chunks

• 1 onion, diced

• 3 cups water

• 1 can whole tomatoes

• 1 cup dry lentils, rinsed and drained

• 1 ts dried garlic

• 3 ts stock powder

• 2 good ts cumin seeds

• 3 good ts piri-piri flakes or 1 ts of chilli powder

• 3 good ts paprika

• 2 ts sugar

• 1 tbs soy sauce

• salt and pepper to your taste

• 1 green pepper, diced

• Sour cream or cream cheese to serve



• Throw everything into the slow cooker, except the green pepper and sour cream Stir to combine

• Turn onto high for 3 hours, or low for 5 hours

• Stir through the diced peppers just as you're about to serve

• Serve with a dollop of sour cream or even better, low fat cream cheese



Like all homemade chili recipes, this too is a very tasty dish, so serve it with a plain sides like fluffy white rice or mashed potatoes.
It's an excellent dish for freezing.
Tips
Cut up the pumpkin in large chunks, larger than usual, so that it retains some texture despite the many hours of cooking. If the pieces of pumpkin are the usual sized (1") it'll just turn to mush.
Substitute lentils with whatever dried beans you have in your larder.
Spring onions as a garnish, is lovely for this dish/
~~~~~~~~~~~
Do your family also, just love your homemade chili recipes?
---
More recipes you might like...
...or try the Table Of Contents or a quick site search
---