Traditional Pumpkin Pie

This traditional pumpkin pie harks back to American colonial times, with the ever popular combination of pumpkin and maple syrup. It's another of our super easy recipes in our collection of pumpkin recipes.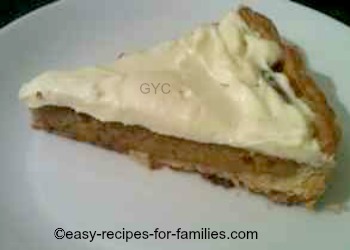 Rating:
Easy
Hands-On Time:
30 minutes
Hands-Off Time:
50 minutes
Ingredients:
8
Steps:
3
This recipe is really very simple. Just follow the instructions on the recipe and the brief photo instructions as below.
However if you're not familiar with baking, please do click on the "Learn How" buttons to take you to each step of the recipe to see in detail every stage of this baking process.
Ingredients for this Traditional American Pumpkin Pie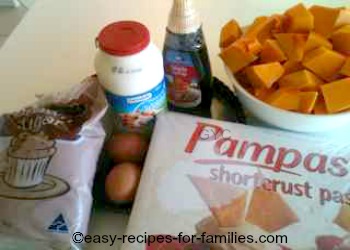 Equipment:

9 inch / 23 cm Removable Non Stick Pie Plate
Hand held blender

Store-bought rolled out pastry
Pumpkin
Maple Syrup
Brown sugar
Cream
Eggs
Cinnamon and nutmeg
3 Steps To A Traditional Pumpkin Pie
Step 1:
Make the pastry case.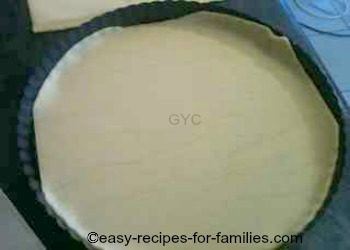 Step 2:
Make the delicious traditional pumpkin pie filling. Use low fat ingredients for a healthier alternative.
Step 3:
Bake and decorate this sensational pumpkin pie.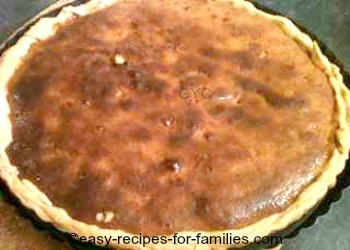 And finally top with lashings of whipped cream.
And that's it!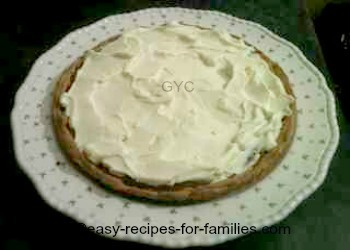 This pie presents elegantly and tastes divine!
This goes perfectly with...
Our guests enjoyed this delicious sweet and not too rich pie after mains from our easy recipes,
Stuffed Peppers
. This budget meal with ground beef, was sensational and looked absolutely terrific!
This recipe makes 6 - 8 serves.

Equipment:

A 23 cm/9 inch, removable non-stick pie plate
A hand held electric beater
A spatula




Just Add
Part 1: Prepare Pastry Case
• 2 sheets of store-bought rolled out short crust pastry

• 1 egg, beaten for egg wash




• Turn on the oven to preheat at 350F/180C

• Using the base of the removable pie plate as a template, cut a circle with a margin of 1/2 inch

• Put the base back into position in the pan and drop in the cut circle of pastry. Press the edges to the walls, where there is surplus pastry

• Cut the remaining sheet into wide strips

• Use the strips to line the walls of the pan, aligning with the top of the flan pan, with a large margin flowing onto the base, like in the image

• Use cut offs to patch the walls as much as you can for a double layer of pastry. It's best to have the walls with thicker pastry. Don't be precious about the pie case not looking neat as it will be filled with a tasty filling

• Prick the shell all over with a fork, being sure to prick the walls as well

• Apply egg wash to seal the pastry

• Bake for 12 - 15 minutes till it just turns lightly golden


Just Add
Part 2: Prepare The Pie Filling
• 1 cup pumpkin puree

• 2 eggs, beaten

• 1/4 cup brown sugar

• 3 tbs maple syrup

• 1/2 cup thickened cream (low-fat is preferable)

• 1 ts cinnamon

• 1/2 ts nutmeg




• Mix all the filling ingredients together

• Combine till it becomes a smooth mixture

• Pour into the cooked pie shell



Just Add
Part 3: Bake and Decorate
• 1 1/2 cups thickened cream(ideally, low-fat cream)




• Bake the pie for 50 minutes

• Allow to cool and when it is sufficiently cooled remove the pan walls and slide it off onto the serving platter

• Use a flat tool like a spatula to help slide the pie from the base. Remove the base

• In the meantime, whip the thickened cream till it is thick and firm. You'll see that it also increases in volume

• To help cool the pie quickly, it can be placed in the fridge

• When completely cool, top with generous amounts of whipped low-fat cream



Enjoy this very popular Traditional American Pie.
Tips For This Traditional Pumpkin Pie
Don't skip the application of egg-wash. The objective of the egg wash is to seal the dough so that it does not become soggy when the filling is poured in.
If you'd like a deeper pie, double the quantities and use a pie pan with higher walls.
The pie must be completely cool before the addition of the cream topping. If you're in a hurry, cool it in the freezer.
It generally takes 1 pound/500 grams of fresh pumpkin to yield 1 cup of pumpkin puree. This link takes you to the page on
how to make pumpkin puree
.
If you have pie weights, use them when baking the case. Remember the process is to bake them with weights, then remove the weights to glaze with egg wash and it's back in the oven again.
For our easy recipes, we use the traditional method used by our Grandmothers and bake the case as is, pricked and sealed. The pie case will rise, but just press the pastry back down with the back of a spoon.
---
Leave Traditional Pumpkin Pie and browse through loads of scrumptious easy recipes with easy step by step photo instructions.