Low Fat Pumpkin Pie Recipe
This low fat pumpkin pie recipe we're making is a Traditional American Pumpkin Pie, a recipe that goes back to Colonial Times. It's another of our easy recipes that looks and tastes sensational with quite minimal effort.
You've joined us in this series of tutorials on pumpkin recipes and on this page we learn how to make the delicious filling for the Traditional American Pumpkin Pie.
To make this a low fat recipe, we've used modern day low-fat ingredients.
For the full recipe, just click on the button:
In the previous step of this tutorial, we learned how to make a crunchy pie crust. To go to this previous step of this tutorial, just click on the button:
Here's how to Make the Tasty Pie Filling
For this part of the recipe, you'll require:
Brown sugar
Pumpkin
Maple Syrup
Eggs
Cream ( ideally low-fat)
Cinnamon
Nutmeg
Combine all the ingredients in a roomy mixing bowl.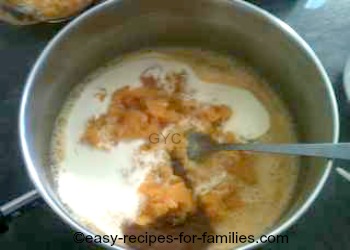 Mix with a wooden spoon till the mixture is thick and smooth as in the photo.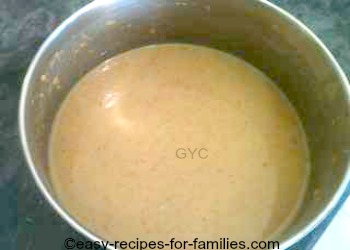 Pour the filling mixture into the baked pastry shell.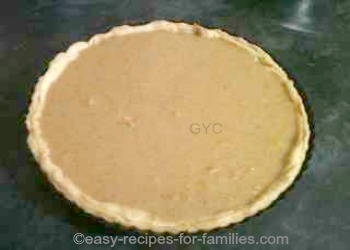 The low fat pie is ready to be baked.
When our Grandmothers and mothers made this sensationally easy pie, they used readily available cream.
But we're fortunate to have these days, the low fat equivalent for dairy products. It gives the same texture without the worry of cholesterol and calories.
The wonderful thing about this super easy low fat pie, is there is no additional butter just natural ingredients of pumpkin, maple syrup, brown sugar and eggs.
Look out for store bought rolled out pastry made with vegetable oil rather than butter. That will make for a healthier low fat alternative.
---
Leave Low Fat Pumpkin Pie Recipe and explore this site for delicious yet easy to make pies.