The trick to recipes for ground beef is to use good quality, premium grade ground beef. Paying a little more is not just healthier as you then don't have to worry about the excess fat, but I regard it as better value for money.
Stuffed capsicums are ideal for the family. They're inexpensive, tasty and easy to cook. Just mix the stuffing, insert into the capsicum and boil for an hour till the meat is cooked.
Stuffed Capsicums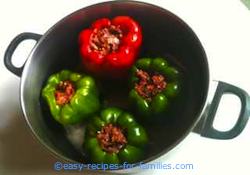 The red and green capsicums look attractive on the table.
I usually make double this quantity so that there's enough for another meal.
Absolutely yummy!
Recipes For Ground Beef - Stuffed Capsicums

This recipe serves 4 persons.
Just Add
Prepare
• 4 capsicums

• 1 cup rice uncooked

• 1 lb/500 gm premium quality ground beef

• 2 cloves garlic, minced

• 1 onion, diced finely

• 2 tbspn tomato paste

• 2 stock cubes

• 2 eggs, beaten

• salt, pepper, 2 tspn sugar

• 2 tspm piri-piri flakes

• boiling




• Cut off the stalk of the capsicums and clean out seeds

• In a bowl mix all the ingredients. Season to taste

• Pack the mixture into the capsicum loosely, close to the top

• Place gently the filled capsicums into the pot and pour in boiling water so that it comes to half way up the capsicums

• Boil for about 15 minutes on high, then simmer for 45 minutes till the meat is cooked. Do not overcook as the capsicums will disintegrate


Recipes for ground beef are inexpensive and so versatile.
This dish looks enticing and tastes delicious!
Now, how easy was that!
Stuffed Capsicums

~~~~~~~~
Tip
Red capsicums look more attractive when cooked as it looks less grey.
Select evenly sized capsicums and ones which will stand upright in the pot.
Cook in stock.
Add onions to the liquid.
~~~~~~~~
For more quick easy beef recipes:

Wishing you happy cooking!
For more Quick Easy Recipes:
---
Top of Page Recipes For Ground Beef - Stuffed Capsicums