For quick, healthy easy recipes, you just cannot go past this 10 minute beef and vegetable meal. I whipped this up last night when I found the left overs I'd planned to reheat had been devoured by the hungry boys who visited my son.
Healthy Easy Recipes - 10 Minute Beef n Veg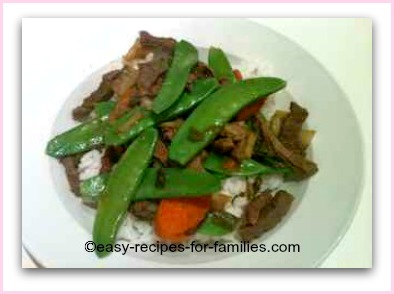 These strapping young fellows are constantly hungry and when they visit, I often find them looking in my pantry!
I had no time to plan for a meal - so out came the topside sliced beef and whatever vegetables I had in the fridge.
This dish is not just easy, it's healthy.
...and done in a matter of 10 minutes!
1. There's no fat used in cooking this meal
2. Red meat is high in protein. This is quickly cooked and retains its nutrients
3. The vegetables are also lightly cooked retaining vitamins and minerals.
10 Minute Beef and Veg

This dish serves 4 persons.
Just Add
Prepare
• 1/2 lb/500g sliced or stir fry beef strips

• 2 sticks celery, thickly sliced

• 2 carrots, sliced

• 1/2 cup water

• 2 tspn plain flour

• soy sauce, salt, pepper, sugar

• 3 cups snow peas, whole




• Into a very hot pan, sear beef strips. Toss in celery and carrot. Stir in flour

• Add soy sauce, salt, pepper and sugar to taste.

• Add 1/2 cup water

• Let it cook for 5 minutes or so for the sauce to thicken

• Just prior to serving, toss in snow peas and cook quickly so that it is still green and retains its crunchiness


Now, how easy was that!
This meal is ever so quick to make and delicious.
Serve with fluffy boiled rice.
It looks terrific.
It tastes sensational.
~~~~~~~~
Tip
Always purchase good quality stir fry or sliced beef strips. Because it is quick cooking, the meat has to be sourced from a cut that's tender. You can't hide quality when the cooking process is swift.
Always cook greens "lightly", that is, cook greens quickly in a hot pan and serve immediately. Over cooking greens will result in limp, soggy and yellow or grey looking greens.
~~~~~~~~
There are more healthy easy recipes for your family to enjoy. Like this one, they can be whipped up in minutes with ingredients commonly in a family's kitchen. For more quick easy beef recipes:

Wishing you happy cooking!
For more Quick Easy Recipes:
---
Top of Page Healthy Easy Recipes
10 Minute Beef n Veg