I was able to extend this homemade meatloaf recipe with fruit and nuts, and managed to make 2 meat loaves from 2 pounds (1 kg) of ground beef.
Meatloaf With Dates And Pecan Nuts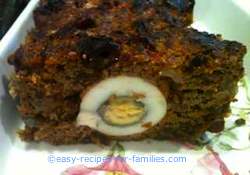 This meat loaf was for an out doors excursion for my son and 3 of his friends. These young men are tall, tough fellows and they like wholesome "meaty" dishes. This recipe is terrific as with the addition of fruit and nuts, instead of just one meat loaf, I was able to make two - now, there'll be more than enough for the boys.
...and it's absolutely yummy!
Easy Homemade Meatloaf Recipe With Dates and Pecan Nuts

This recipe serves 8 - 10 persons. It makes two meat loaves.
Serve with short pasta or toast.
Just Add
Prepare
• 2 lbs/1kg premium grade ground beef

• 1 onion diced finely

• 1 cup pitted dates, chopped in half

• 2 cups pecan nuts whole

• 2 eggs, beaten

• 1 cup breadcrumbs

• 1 cup sultanas

• 3 heaped tbsp passata (purchased thick tomato base for bolognaise sauce)

• 1 tbsp sweet chilli sauce

• 1 packet cup of mushroom soup

• 1 cup water

• 1 cup milk

• 4 hard boiled eggs




• Preheat oven to 380F/ 190C

• Toss all the ingredients, except the hard boiled eggs, into a large pot and combine well

• Spoon some mixture into the base of each of the two loaf tins. Press down the meat firmly

• Place two eggs in the center of each loaf tin

• Fill the remainder of the loaf tins. Press the meat down firmly

• Bake for 45 minutes


This meatloaf is so easy to make and the heavy fruit and nuts of dates and pecan nuts makes it a wholesome meal.
Slice the meat loaf attractively and serve with bread or toast and a fresh crunchy salad.
Now, how easy was that!
~~~~~~~~
Tip
Use silicone baking tins so that you save time in greasing and lining baking pans.
Only ever purchase premium grade ground beef so as to consume less fat. Otherwise, you have the additional step of pre-cooking the ground beef and draining away the fat before proceeding with the recipe.
~~~~~~~~
Here is another favorite homemade meatloaf recipe:
Try these economical and healthy easy ground beef recipes:
For more quick easy beef recipes:

Wishing you happy cooking!
For more Quick Easy Recipes:
---
Top of Page Homemade Meatloaf Recipe
With Dates And Pecans