Here is an easy recipe with ground beef - Ground Beef Apricots topped with weetbix and baked.
This is a one-pot meal, made in a rectangular lasagna dish, and popped directly into the oven.
Easy Recipe With Ground Beef - Ground Beef Apricots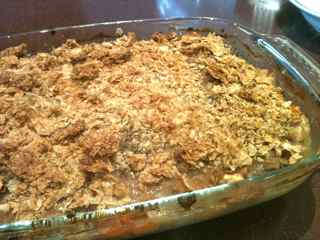 Absolutely yummy!

Ground Beef Apricots


This recipe serves 4 - 6 persons.

Serve with short pasta and a fresh salad.
Just Add
Prepare
• 1 lb/500 gm frozen uncooked shrimp or scampi

• 1 can/14 ox/400 gm halved apricots

• 1 large onion, diced finely

• 2 carrots, diced

• 1 tbsp flour

• 2 tbsp honey

• 2 tspn piri-piri

• salt and pepper to taskte

• 2 tsp sugar

• 5 weetbix




• Preheat oven to 360F/180C

• In a rectangular oven-proof dish, like a lasagna dish, mix all the ingredients, except weetbix

• Combine well, including apricot juice and pat the meat down firmly

• Crumble weetbix over the top

• Bake for 45 minutes


This meal takes less than 10 minutes to prepare and then it goes straight into the oven. Oven baked meals are convenient as it frees your time for other chores while dinner's in the oven.
Now, how easy was that!
~~~~~~~~
Tip
Replace apricots with whatever tinned fruit you have in the pantry.
To extend the meal further, add more carrots and diced potato.
~~~~~~~~
There are more easy ground beef recipes for your family to enjoy. Like this one, it takes no time at all.
For more quick easy beef recipes:

Wishing you happy cooking!
For more Quick Easy Recipes:
---
Top of Page Easy Recipe With Ground Beef
Ground Beef Apricots