Ground Beef Recipes are often sought as they're economical.
But, inexpensive cuts can also be delicious and present beautifully. This dish is always popular with our family as it is tasty, healthy, moist and it's gone in no time at all.
If you're looking for a pot luck dish, this one is ideal as it looks lovely too.
This savory olive loaf is ideal for freezing.
Savory Olive Loaf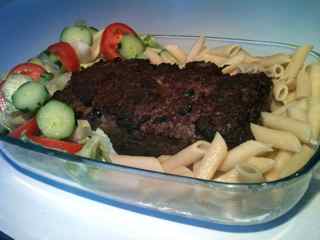 Savory Olive Loaf Made From Ground beef

One loaf will serve 4 persons.
This recipe is for 2 Savory Olive Loaves
Just Add
Prepare
• 2 lb/1 kg premium grade ground beef/mince beef

• 3 tspn sugar

• 4 tspn piri-piri

• 2 tspn beef gravy powder

• 2 stock cubes

• 1 cup sliced olives

• 1/2 cup olive liquid

• 2 eggs, beaten

• 2 tbspn plain flour, heaped

• 2 weetbix

• 3 sticks celery, diced roughly

• 2 carrots, large slices

• 1 onion, large dices

• 4 hard boiled eggs



• Mix all the ingredients (other than the vegetables and eggs) together and leave it in the refrigerator for an hour to marinade

• Preheat oven at 400F/200C

• Add 3/4 the ground beef mixture to 2 silicone loaf tins

• Make a depression along the center so that there's a floor and wall of ground beef mixture. Insert 2 eggs in each loaf tin and then push in the vegetables firmly into this center well

• Top with remaining ground beef mixture. Firmly pat it down

• Bake for 45 minutes


It looks crisp and browned and tastes moist and delicious.
When cut, the center is attractive with egg, carrot and celery in the middle.
Now, how simple to make was that!
Carve it with a serrated edged knife, such as a bread knife.
Serve with short pasta and fresh salad.
~~~~~~~~
Tip
For a variation, try adding a large tablespoon of BBQ sauce to the mixture.
~~~~~~~~
There are more ground beef meals for your family to enjoy. Like this one, it takes no time at all.
For more simple beef recipes:

Wishing you happy cooking!
For more Quick Easy Recipes:
---
Top of Page Ground Beef Recipes | Savory Olive Loaf