Budget homemade recipes that are tasty and healthy, are just the ticket for most families. I was able to prepare this hearty homemade delicious meal for 4 persons at a cost of $5, with the meat at $4 and the cabbage $1.
A Budget Homemade Meal
Tender Beef n Cabbage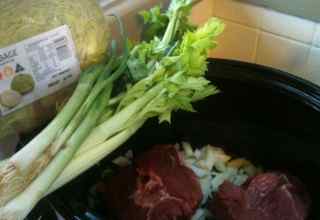 This hearty homemade meal serves 4 persons.
Serve with potatoes and fresh greens.
Also suitable as sides to go with this homemade meal are rice or short pasta.
Lay Cabbage Wedges Over The Meat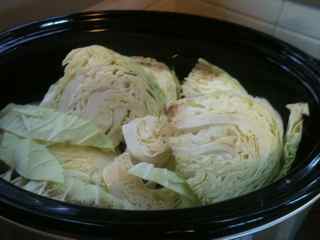 A Budget Homemade Meal Of Tender Beef n Cabbage

Just Add
Prepare
• 1 lb/500g gravy beef

• 1 onion

• 2 sticks celery

• 1/2 cabbage, cut into thick wedges (like cutting a pie)

• 2 tbsp chicken stock powder

• 2 tbs tomato puree

• 2 ts seeded mustard

• 1 cup water

• salt and pepper to taste




• Place the water and seasonings in the pot and combine well

• Add the meat. Coat it with the marinade

• Lay the wedges of cabbage on top. Don't mix it as you want to serve the cabbage in wedges, so try not to break it up

• Cook on low for at least 5 hours


Budget homemade meals such as this are healthy, tasty, filling and so good for the family.
Now, how easy was that!
Tip

Select cuts of meat that are suitable for slow cooking. Gravy beef is a cut that remains tender and moist. It deliciously falls apart after hours of being in the crock pot.
~~~~~~~~



Wishing you happy cooking!

Meals In A Flash!
www.20minutecook.com

---
Top of Page Homemade Recipes
Budget Tender Beef n Cabbage



Return to: [Home] []Slow Cooker Recipes] [Easy Ground Beef Recipes]

Also Recommended: [Site Map] [Easy Dessert Recipes] [Easy Dinners]