Lake Haven's
Easy Picnic Recipes
These are my easy picnic recipes. We go out in the boat often when we're visiting Lake Haven, our house on the Lake, and we'll pack a compact picnic lunch and snacks to have on our adventure.
We'd just go out and explore the lake and land where ever the shore looks welcoming. These picnic items are those I'd whip up the night before or quickly make up as the boat's being readied at our jetty.
Our Lake Haven at Dusk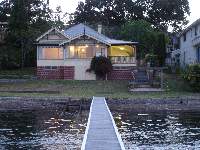 Lake Haven's Easy Picnics

Picnic food needs to be eaten with fingers and mustn't have sauce or it'll be too messy to handle. It needs to be delicious cold.
Here are some of the items I would pack into our Lake Haven picnic basket.
Choose from the selection of savory and sweet easy picnic recipes.
Easy Lunch Recipes for Picnics:

Salmon, Lettuce and Cream Cheese Wrap
Savory Olive Loaf with Fresh Bread
Ham and Lettuce with Mayonnaise Sandwich
Turkey Slices with Red Pesto and Lettuce Wrap
Chinese Roast Pork with Cream Cheese Wrap
Corn on the Cob
Ham and Polenta Little Cakes
Easy Picnic Dessert Recipes

Fruit muffins
Coconut Slice
Caramel Slice
individual whole fruit
Other items for the hamper:

bottled water
4 plastic cups
paper towels
plastic bag for garbage
hand santizer
sun screen
Now, how easy was that!
If you know in advance you'll be going out, you can prepare by cooking an extra savory olive loaf the night before and corn on the cob.
Whipping up muffins and brownies for the little trip takes minimal time if you're able to do this the day before the trip. You'll be busy enough the morning of your picnic and won't want to rush around to cook.
When we get home after a day on the water, everyone's starving. I put on an easy appetizer of nachos and salsa with melted cheese and it's quick and hot made in the microwave. This keeps hunger at bay while my husband and kids are cleaning out the boat and I get dinner ready.
Have fun on your days out. These easy picnic recipes are all in this website. They really are easy to prepare and easy to handle in the outdoors.
Here are more ideas for easy picnic dessert recipes.
Picnic Food Tips From Easy Recipes

Drinks - we only have bottled water on our picnics as soft drink and juice makes the palate "sticky" and makes you want to drink more.
Fruit - needs to be not soft so that it travels well in the picnic basket. These would include apples, pears and mandarins.
Sweet snacks need to be able to be eaten hand held and firm enough not to fall apart on the journey.
I wrap savory wraps, breads and sandwiches in a paper towel "pocket" so that they're held by the wrapped end, when eaten.
Don't use tomatoes in your sandwiches and wraps. It makes it all soggy.


---
Easy Recipes | Camping & Picnics | Easy Picnic Recipes