Easy lunch recipes for the busy mom are primarily pre-cooked cold meals.
In our busy family, we have two categories of lunches and that is a packed lunch for week days and a simple no-fuss lunch at home on weekends.
Lunch Amongst The Olive Trees, Tuscany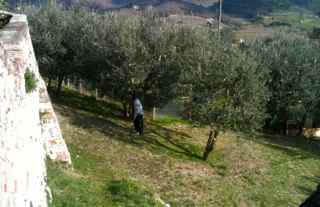 I will assume that's the same for your family.
Either way, both types of lunches need to be super easy and no-fuss at all.
Easy Lunch Recipes For Packed Lunches

I make the lunches after dinner, mark them with the kids names and pop them in the fridge. This way, it's all done before the big morning rush.
~~~~~~~~
Leftovers from the previous night's dinner are a top favorite in our household. This will be a mini version of the meal, with a small amount of pasta, salad and the meal.
Sandwiches made from left over roast. For example a roast pork sandwich with raspberry sauce is totally yummy!
Pre-make sandwiches using deli meat such as turkey, ham and chicken but use different spreads such as pesto, or aubergine dip or mayonnaise.
Instead of bread sandwiches, make rolls from fine lavash bread. For the spread on the lavash bread, use cream cheese. For the filling, use deli meats and crisp lettuce.
A small container of cut fruit for a packed lunch is always a favorite.
Hard boiled eggs with a roll of salt and pepper, and two slices of buttered bread.
Tip Avoid using cut tomatoes in sandwiches. It makes the sandwich soggy.
~~~~~~~~
Easy Lunch Recipes For Weekends

~~~~~~~~
Welsh Rabbit - I don't know why it's called this, but it really is cheese toast.

Toast bread in toaster.

Pop a slice of tasty cheese on the toast.

Put it under a hot grill for a couple of minutes till the cheese slice has melted.

Super easy and super tasty.

For variations, add a slice of tomato, mushrooms or ham under the cheese slice.

Scrambled eggs on toast for 4.

Cook 4 beaten eggs in a fry pan, on moderate heat.

Add diced ham.

Leave the eggs to set and when fairly firm, stir to mix up the eggs.

Add salt and pepper to taste.

Once it is firm, take it off the heat and serve.

Serve with freshly made toast.
It's nice to have a small salad with your lunch. It makes the meal fresh.
These are such easy lunch recipes and they're made in no time at all.



Wishing you happy cooking!
Easy Recipes For Families


For more on how to be time efficient with cooking:
For more Quick Easy Recipes:
---
Top of Page Easy Lunch Recipes