Lake Haven's
Easy picnic dessert recipes

We're used to preparing really easy picnic dessert recipes for when we go out on the boat at our weekender, Lake Haven. Often it's a matter of tossing in whatever that's been prepared and in the pantry.
Our Jetty At Lake Haven
Picnics Are Our Norm Here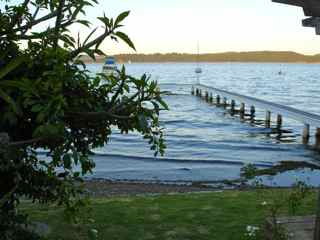 Easy Dessert Recipes For Picnics

Picnic food needs to be easily handled being eaten with hands, so they need to be fairly firm, not crumbly and not messy to eat. I make slices and muffins or cup cakes which can be made into individual pieces and stored in an airtight container.
Here are some of the items we have ready for a picnic dessert when at Lake Haven:
Moist Chocolate Cake , wrapped in a serviette
individual whole fruit. Fruit needs to be not too soft as otherwise they won't survive the bumps on the journey.
These items all survived bumpy boat rides and were just right to revive the family on arrival at the island.
Naturally when we're chilling out here, I am prepared that we'd go boating when the weather's good and the sun's out, so I have these picnic sweets ready and available. I have to hide them so they don't get eaten before our little adventure on the lake.
Have a look through our desserts, cakes and easy baking recipes for delicious yet so simple recipes for your picnic.

Picnic Tips From Easy Recipes

Be sure to pack bottled water, and if you're taking the dog, pack a little container to pour water into.
If you will be preparing tea or coffee on your picnic, pack a thermos of hot water, tea bags, sachets of coffee, creamer and sugar and plastic mugs.
A roll of kitchen paper, rather than serviettes will come in handy.

Enjoy your day out on your picnic!
---
Easy Recipes > Easy Picnic Recipes > Easy Picnic Dessert Recipes