Make tHis Easy meatloaf recipe harmonized with apricots

This easy meatloaf recipe is wonderful for families as it is economical, tasty, has very little (if no) fat, and is easily extended.
Moist Low Fat Apricot Meatloaf Recipe
Naturally, as are virtually all the meals in this site, this meal is mixed in one pot and left to bake without the worry of constantly watching and checking on it.
In our family, we all love savory meat loaves as it makes for a tasty, wholesome dinner and left overs make an ideal sandwich for lunch.
You'll find the ingredients are what you already have in your pantry and fridge.
Ingredients For A Low Fat Apricot Meatloaf Recipe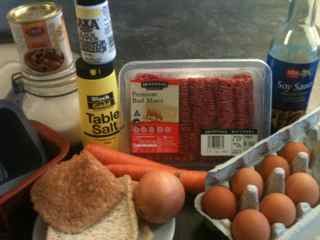 Bag of Dried Apricots
Cut apricots into thirds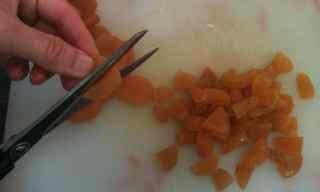 Tear heels into small breadcrumbs
Slice carrots into small pieces so that the mixture
can be pressed together firmly and will slice neatly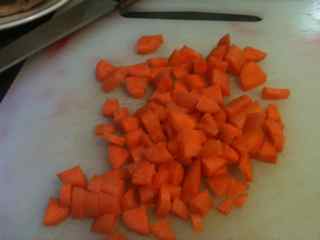 Combine all ingredients. Mix well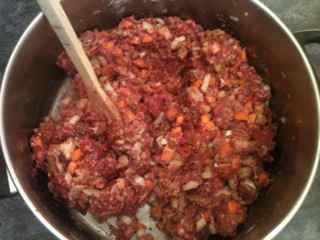 Press firmly into a non stick loaf "tin"
Decorate with whole apricots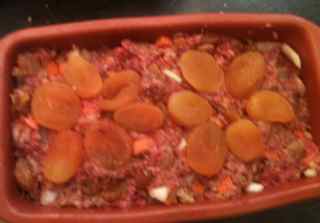 Easy Meatloaf Recipe
Apricot Savory Loaf
This recipe serves 4 - 6 persons.

The savory loaf is ideal for freezing.

The proportions are easily doubled to make two meatloaves.

• 1 pound/500 gm premium grade ground beef

• 2 "heels" from a loaf of bread. These are the ends of a loaf of bread. Tear them up as small bread crumbs

• 1 onion, diced finely

• 1 carrot, diced into small cubes

• 1 heaped tbs plain flour

• 2 tbs light soy sauce

• 1 heaped tb sugar

• 1 ts stock powder

• salt, pepper, to taste

• 2 eggs, beaten

• 1 cup dried apricots, cut into thirds plus 12 whole ones for decoration

• Preheat the oven to 390F/200C

• Pop all the ingredients, except the whole apricots into a large pot and combine well.

• Spoon the mixture into a non-stick medium sized loaf pan. Otherwise, be sure to grease and line the bakeware

• Press down firmly so that the meat mixture is compressed

• Decorate the top with whole apricots and firmly press down

• Bake for 40 minutes. Just watch that the fruit does not burn



This makes a moist meatloaf. By using only premium grade ground beef, the meat tastes good and there will be no excess fat that will need to be drained off.
Serve with sides of crusty bread or short pasta with a crunchy green salad.
Now, how easy was that! Putting this together took minutes and the washing up is minimal.
Tips From Easy Recipes

I only ever use non-stick bakeware so as to avoid the step of greasing and lining tins. Furthermore, greasing does mean consuming additional fat which we do our best to minimize.


Only ever purchase the best grade ground beef products so that you are only every consuming good quality meat and not fatty cut-offs.


For breadcrumbs I use the heels of a loaf of bread rather than disposing of them.


Be sure to cut the vegetables small so that the mixture presses together firmly. If the pieces are too large, you'll find that the meat loaf will not slice neatly.
---
Easy Recipes | Easy Ground Beef Recipes | Easy Meatloaf Recipe