This is another of my easy meatloaf recipes which takes 15 minutes to prepare and then, 40 minutes in the oven. All you have to do is mix all the ingredients together in a large basin and spoon it into a silicone loaf "tin". Once baked, you'll have yet another winner for the family.
Easy Date n Olive Meatloaf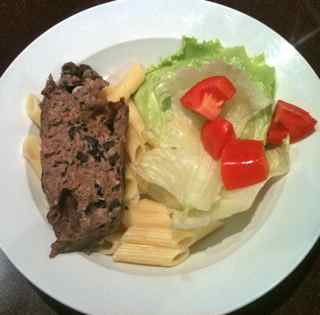 I find baked meals convenient as it doesn't require stirring or watching and it frees time for other work.
Absolutely yummy!
Easy Date and Olive Meatloaf

This recipe makes 2 meatloaves or 8 to 10 servings.
Serve with short pasta, or mashed potato for dinner with freshly steamed greens.
For lunch, have this cold in a sandwich. It's delicious!
Just Add
Prepare
• 2 lb/1 kg premium grade ground beef

• 1 jar/14 oz/400gm sliced black olives, drained

• 1 cup whole dates

• 3 tbsp sugar

• 2 tbsp flour

• 2 eggs, beaten

• salt, lots of pepper, 2 tbsp piri-piri flakes




• Preheat oven to 360F/180C

• Combine all the ingredients in a roomy basin so that it's all well mixed together

• Spoon the mixture into the two loaf tins. Press down firmly

• Bake for 40 - 45 minutes


When cool, turn onto a serving plate and serve sliced thickly.
Now, you have to agree, wasn't that the one of the simplest easy meatloaf recipes?
~~~~~~~~
Tip
Meatloaf is delicious cold as well. It makes a delicious sandwich with crisp lettuce.
~~~~~~~~
For more quick easy beef recipes:

Wishing you happy cooking!
For more Quick Easy Recipes:
---
Top of Page Easy Meatloaf Recipes
Date n Olive Savory Loaf