This has to be the tastiest of easy recipes for ground beef. Our Killara Bake with a crusty cheese top is quick to make and baked for 30 minutes to get the flavors through the pasta.
Absolutely yummy!
Killara Bake - Ground Beef and Pasta Bake With Crusty Cheese Top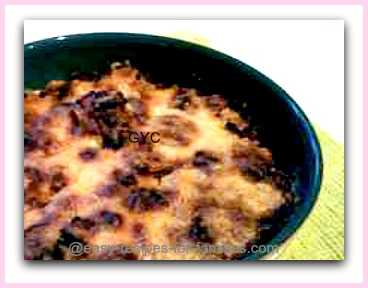 Easy Recipes For Ground Beef
Killara Bake With Crusty Cheese Top

This recipe serves 8 -12 persons.
This is a pasta, ground beef and cheese bake, with a crusty golden top. A fresh crunchy salad will go very well with this tasty easy ground beef recipe.
Preparation time: 15 minutes
Baking time: 30 minutes

Just Add
Prepare
• 2 lb/1 kg Premium grade ground beef

• 2 onions, diced very finely

• 2 heaped tbsp brown sugar

• 2 heaped tbsp tomato puree

• Salt and pepper to taste

• 125 gm mushrooms, sliced

• 1 tbpn piri-piri

• 1 tin/ 14oz/400gm diced domatoes

• 2 tsp plain flour

• 8 oz/250gm shredded tasty cheese

• 18 oz/500 gm packet of short pasta




• Preheat oven at 400F/200C

• Boil water in a saucepan and cook the short pasta. It will be cooked in 15 minutes, just as the mince is ready.

• Into a hot non stick pan, fry ground beef then add mushrooms and onions. Cook till mushrooms are cooked.

• Add brown sugar, salt, pepper, tomato puree and piri piri. Combine and cook for a couple of minutes

• Add plain flour, cook for 2 minutes, then add in tinned tomatoes including juices. Combine and leave to simmer for 10 minutes so that the sauce thickens

• The pasta should be cooked by now. Pour the pasta into two deep casserole or oven proof bowls

• Top each casserole with half of the sauce

• Top with shredded tasty cheese

• Bake for 30 minutes


This is a hearty family meal that will be sufficient for 2 meals.
Serve with a fresh crunchy salad.
Now, how easy was that!
~~~~~~~~
Tip
When you cook the pasta, cook as usual to al dente, where there's still a little crunch in the center. Take it off the stove immediately, as it will be cooked more when baked.
So as to minimize the use of oil, cook in a non-stick fry pan.
~~~~~~~~
I hope you too will enjoy these easy recipes for ground beef.

For more quick easy beef recipes:

Wishing you happy cooking!
For more Quick Easy Recipes:
---
Top of Page Easy Recipes For Ground Beef
Killara Bake With Crusty Cheese Top