This easy pumpkin bread recipe is made with no yeast. It is ideal as an appetizer, for packed school lunches or just as a snack to have available for the children.
While it is simple to make, the pumpkin does need to be roasted firstly to soften it and to bring out its flavors. Once roasted, it's just a matter of using a fork to mash it, then add it to the batter to produce a moist pumpkin loaf.
With this recipes, there is no fuss in using yeast and waiting for it to rise.
Easy No Yeast Pumpkin Bread

Absolutely yummy!
Easy Pumpkin Bread Recipe

This recipe makes two loaves.
Ingredients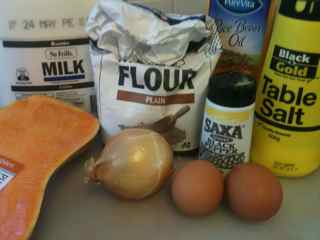 Roast Pumpkin Pieces To Soften and Bring Out Its Flavor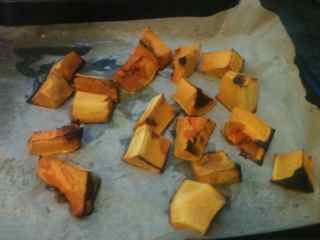 Pumpkin Softened But Keep Some Solid Chunks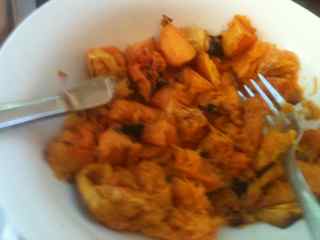 Pumpkin And Diced Onion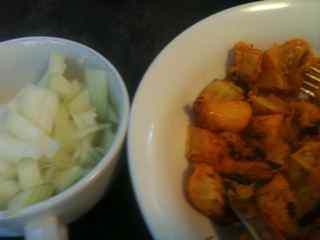 Oil and Flour Mixed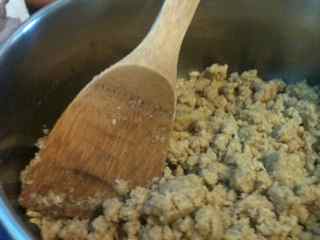 Combine All Ingredients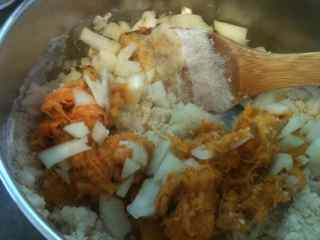 Just Add
Prepare
• 1/2 of a butternut pumpkin, about 800grams or 1 1/2 pounds

• 1 onion, diced finely

• 1/2 cup oil

• 2 1/2 cups self raising flour

• 1 tbs sugar

• salt and lashings of pepper

• 1 egg, beaten

• 1/3 cup milk




• Preheat oven to 350F/180C

• Trim and de-seed pumpkin. Cut it up into chunks and place on a lined and greased roasting tray

• Brush with a little oil so that it does not dry out

• Bake for 20 minutes

• In the meantime, make the dough. Combine together oil and butter. It will look like tiny chunks of dough

• Add sugar, salt and pepper

• Dice the onion finely and add to the mixture

• Add the beaten egg and milk. Combine well

• When the pumpkin is cooked, soften it with a fork but not too mushed, so that there are still some chunks of pumpkin

• Add the soft cooked fruit to the batter. Combine

• Spoon into two non stick loaf tins. If you don't have non stick baking tins, be certain to line and grease before hand.

• Bake for 30 minutes till golden brown


This is an easy pumpkin bread recipe, other than the need to roast the pumpkin firstly.
Now, how easy was that!
Tip

Use a non-stick bakeware so as to avoid the step of lining and greasing your baking tins.
Leave some chunks of pumpkin so that there is a distinctive flavor in your loaf.
~~~~~~~~
Wishing you happy cooking!
---
Top of Page Easy Pumpkin Bread Recipe


Go To: More No Yeast Bread Recipes