Easy Carbonara Recipe
This easy Carbonara recipe is my daughter's favorite pasta sauce. We make it for her birthday as it's her favorite meal.


Easy Spaghetti Carbonara Recipe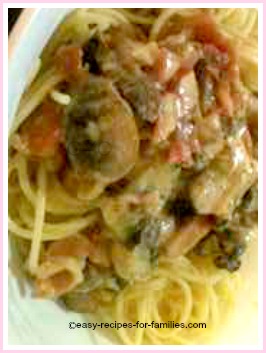 This easy Spaghetti Carbonara Recipe has just 4 ingredients - a large onion, mushrooms, bacon and cream. Mix it all in a roomy non-stick pan and top it over long pasta. We use spaghetinni as it is finer and we think, better for this meal.
Rating:
Extremely Easy
Hands-On Time:
15 minutes
Ingredients:
4
Steps:
2
Easy Carbonara Recipe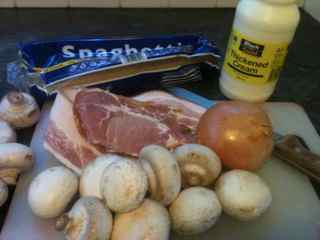 Cook all the ingredients in a pot
Firstly, cook onions and mushrooms and add bacon only when the mushrooms are cooked.
Add cream and warm through, making sure it does not boil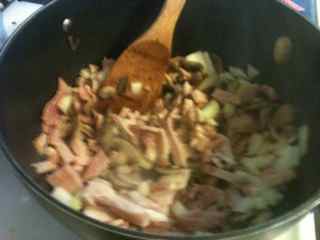 Makes 4 servings
Just Add
Prepare
• 4 bacon rashers, trimmed of fat and rind, diced

• 1 onion

• 250 gm mushrooms

• 300 ml/ 1 1/4 cup cream or substitute with cream cheese

• Pepper



• In a non stick frypan, on high heat, fry onions and mushrooms together till the mushrooms are cooked

• Then add in bacon and cook

• Stir through cream or low-fat cream cheese and warm through till it is smooth

• Serve with freshly cooked spaghetti or spaghettini



We enjoy this dish with fine spaghetti called spaghettini - it's a fine version of the usual spaghetti.
Tips
Always cook mushrooms thoroughly before adding any seasoning, as adding seasoning before this vegetable is cooked, leaches fluid from the mushrooms and the sauce becomes too watery.
For a low fat version, substitute cream with low fat cream cheese.
To save time, I cut the meat into chunks with kitchen scissors right over the pot.
Garnish with parsley or chives as desired.
You could stir through frozen green peas. That will make it an all-in-one meal in a pot.
---
Easy Recipes | Quick And Simple Dinners | Easy Pasta Recipes | Easy Carbonara Recipe