how to cook gnocchi
Step By Step Photo Tutorial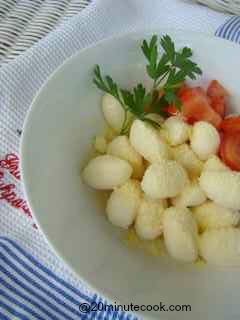 This is how to cook gnocchi very simply and quickly. It takes less than 5 minutes to cook gnocchi to perfection and naturally, it forms part of our collection of easy recipes.
Rating: Very Easy
Hands-On Time: 5 Minutes
The ingredients to cook gnocchi:

Kettle to bring water quickly to the boil
a roomy saucepan
the gnocchi


Pour the boiling water into the saucepan, lightly salt it, and on high heat keep it at rapid boil.

See the bubbles in the water - that is rapid boil.

Toss in all the gnocchi - I used one pound which makes 4 serves.

The gnocchi sinks to the bottom and the water stops being at boiling point.

To make the gnocchi extra tasty, add a couple of stock cubes to the water.


Keep the heat on high and bring the water back to rapid boil. See the bubbles in the photo - the water is agitated and it helps move the pasta around.


You'll see the gnocchi float to the top. That's when the potato pasta is cooked.

Immediately remove from the heat and drain in a colander.

Put it back in the pot when drained.

Add a little olive oil to make it smooth and serve immediately.


See the photo - the gnocchi is served with a generous helping of finely grated parmesan cheese.

Also delicious is pesto, either red or green.

Tips From Easy Recipes

Gnocchi is a pasta made from potato and looks like dumplings. If you love potato, you'll love this dish


It is usually cooked plain in lightly salted water, like pasta or spaghetti


Serve with lots of freshly grated Parmesan or Reggiano cheese


You can also serve with delicious pesto


For something different, make shepherd's pie and substitute the mashed potato topping with gnocchi topped with shredded cheese


Here's another easy recipes variation for gnocchi - serve with a simple and very delicious tomato and basil sauce with slices of crisp bacon. To make easy recipes fancy, substitute with pancetta or prosciutto.

---