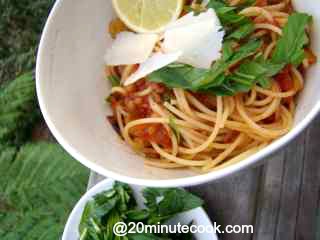 This spaghetti sauce of lentil and veggies takes no time at all. This makes about 4 serves
spaghetti
2 tbs good quality cooking oil

5 cloves of garlic, chopped roughly
2 stalks celery chopped finely
1 large carrot, diced into about 1/4 inch cubes
1 can of lentils, drained
1 can of diced tomatoes
2 heaped tbs tomato puree
salt, pepper
parmesan cheese for grating over
1/4 cup mint leaves chopped roughly
1 fresh lemon
To put this recipe together:
Cook the spaghetti. Don't cook more than the number of serves required as left over spaghetti really is quite unappetizing.
In a roomy sauce pot, heat the oil. When hot, quickly fry the garlic, then toss in the diced celery and carrot.  Cook till a little softened. It takes only minutes.
Add in seasoning, tomato puree, the entire contents of the can of tomatoes and lastly the drained lentils.
Bring to the boil then allow to simmer for a few minutes to blend the flavors.
Serve with freshly shaved Parmesan cheese, a sprinkling of chopped mint and a squeeze of lemon.
Enjoy!