Easy Risotto In 20 Minutes

| | |
| --- | --- |
| | Related |

Easy Risotto with Sweet Caramelized Eschalots


Easy Recipes Rating: Easy

Hands-On Time: 25 Mins


Hands-Off Time: 0



Easy Risotto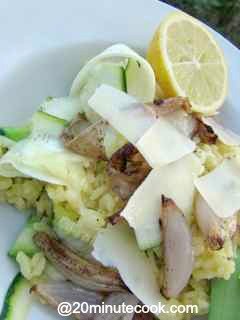 These proportions will make sufficient for 4 to 6 sides or 3 main sized servings.
8 eschalots or small spanish onions
2 tbs good quality herbed oil
salt and pepper
a dash of white wine vinegar

1 1/2 cups arborio rice
4 cloves of garlic roughly chopped
2 tbs good quality cooking oil
5 cups vegetable stock
2 zucchini peeled with a vegetable peeler for long strips 
parmesan cheese for shaving
1 lemon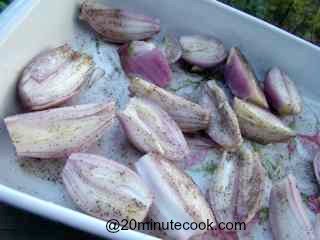 Roast the eschalots:

Firstly, preheat the oven to 200C/390F


Quarter the eschalots or onions, toss to coat well with oil, white wine vinegar, salt and pepper


Roast for 20 to 25 mins

Cook the short cut risotto:

In a roomy sauce pot, heat the oil and when hot, quickly fry the chopped garlic


Toss in the arborio rice grains and coat well. This only takes a couple of minutes


Pour in the stock


Cover with the lid and leave on high till it comes to a rapid boil


Then turn the heat down to low for a slow simmer till cooked.


Do not stir. Whatever you do, in this short cut method, DO NOT STIR the rice


Leave it to cook with the lid on for 20 mins


Then stir through the spaghetti squash - that's the zucchini cut into long strips like spaghetti using a vegetable peeler. Cover with the lid and allow it to cook in the rice for about 5 minutes


Stir through the roasted eschalots.


Serve with freshly squeezed lemon juice and shavings of parmesan cheese.
Tips from Easy Recipes

This is how to cook risotto the authentic way:
In the sauce pot, heat the oil then fry the garlic till fragrant
Toss in the arborio rice grain and fry for a couple of minutes to coat the grains well with garlic and oil
Now ladle in the stock one spoonful at a time and keep stirring.
As the rice absorbs the liquid, add more stock, but only one ladle at a time
The result is a smooth creamy risotto.
This procedure takes about 25 to 30 minutes and you must keep stirring to prevent the rice from sticking to the bottom of the pan.
Invest in a decent veggie peeler:
Use the peeler to create long strips from the zucchini squash. It's sufficiently fine that it won't require much cooking other than being cooked through with the risotto.  I like vegetables cooked this way rather than have its nutrients boiled away in excess water.


The peeler is useful to shave hard Parmesan or Reggiano cheese just prior to serving.
---